Welcome to Year 2!
Miss MacDonald and Mr Duxbury!
Welcome to our page, have a look deeper to find out some of the fun things that we have been learning about this year!
Home Learning in Year 2
Take a look at some of the amazing things that the children have been doing throughout this challenging time!
Messages to the Key workers!
The children wanted to show their thanks to the NHS for all their hard work. Take a look at some of the things that the children have produced to express their thanks.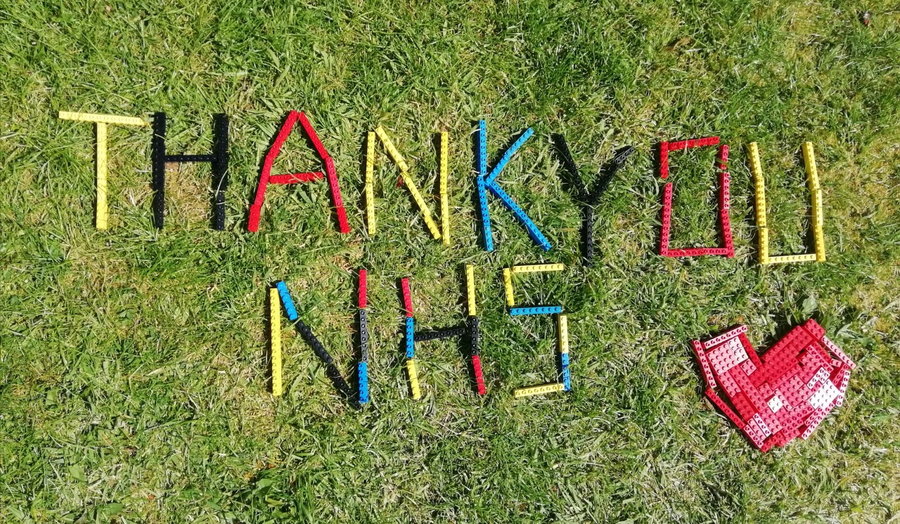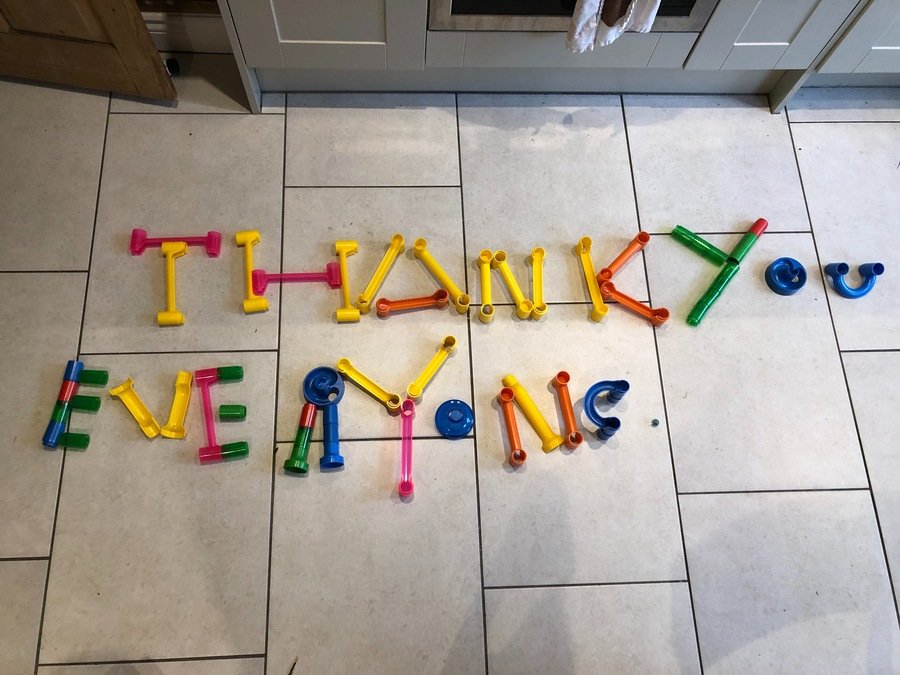 Check out some of Alfie's writing from this week!
Our Literacy this week has been around the text 'Grandad's secret giant'. Harry has drawn his own giant as part of our Art work this week and even done some writing about it and created his own newspaper report.
Isabel has drawn her giant as part of our art work this week.
Here is Isabel and Harry's mural that they have created. Isabel has even explained what she has included in hers.
Here is Keira's work after we introduced algorithms. She ordered the instructions into the correct sequence and then followed them to ensure that her 'algorithm' worked. Judging by the pictures, it is safe to say it did!
Why not give Isabel's favourite a go and have a read of them, here she is explaining why she enjoys them.
Here is a shape poem that Isabel wrote using a flower.
Check out some of Harry's growing experiment.
Alfie has been growing his own cress at home linking to our Science work.
Rafferty has been learning about seeds and bulbs this week.
Brannagh has been working hard to use lots of similes in her writing this week! :)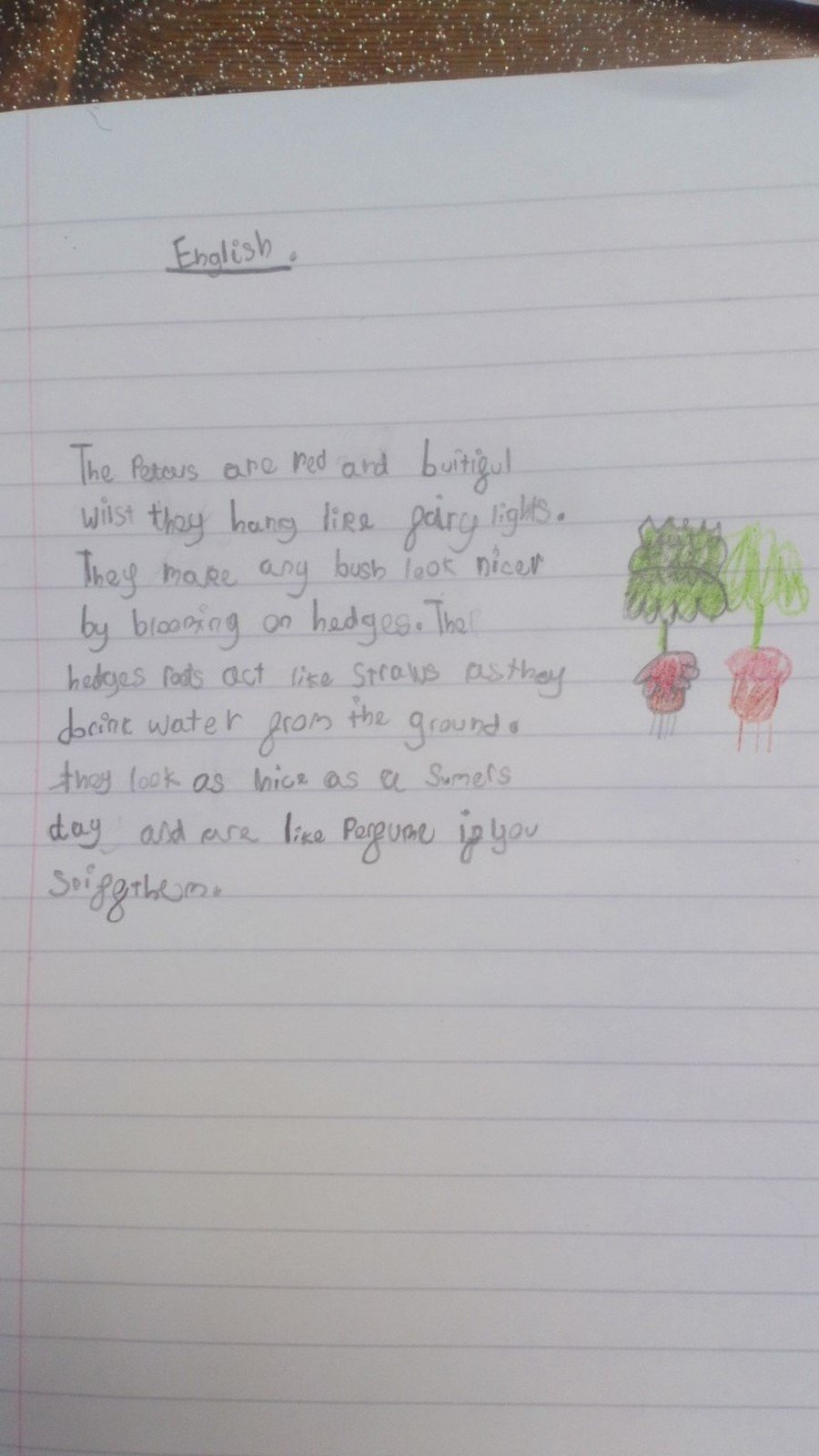 Harry and Jasmine have been doing some beautiful writing in literacy. They have also been learning about the parts of a flowering plant whilst drawing and labelling fabulous plant pictures.
Florence has been doing lots of fantastic writing! She has written two non-chronological reports! One about Bar-ba-loots and one about Borneo elephants. Great work Florence! :)
Joseph planted a lettuce and wrote a set of instructions to show the equipment needed and the method. Marvellous work in Science and Literacy!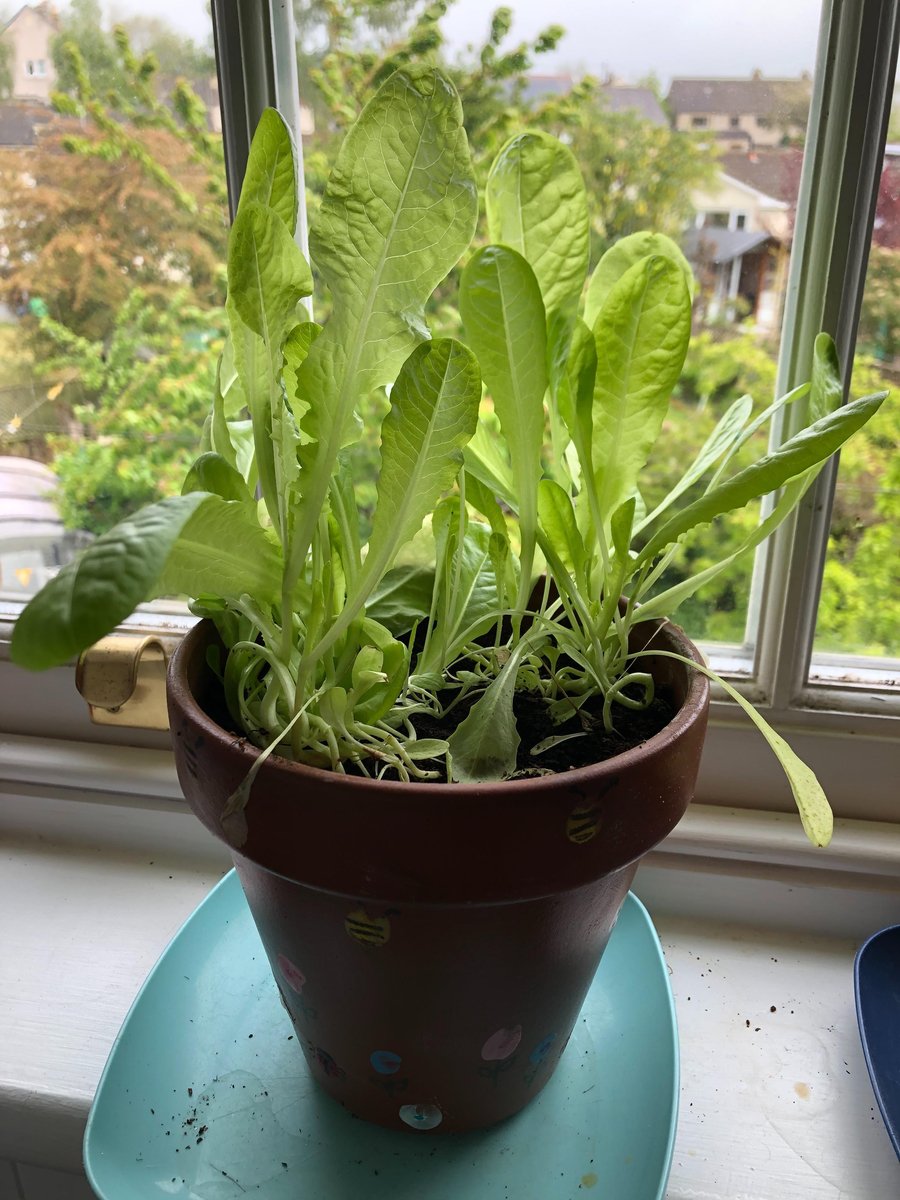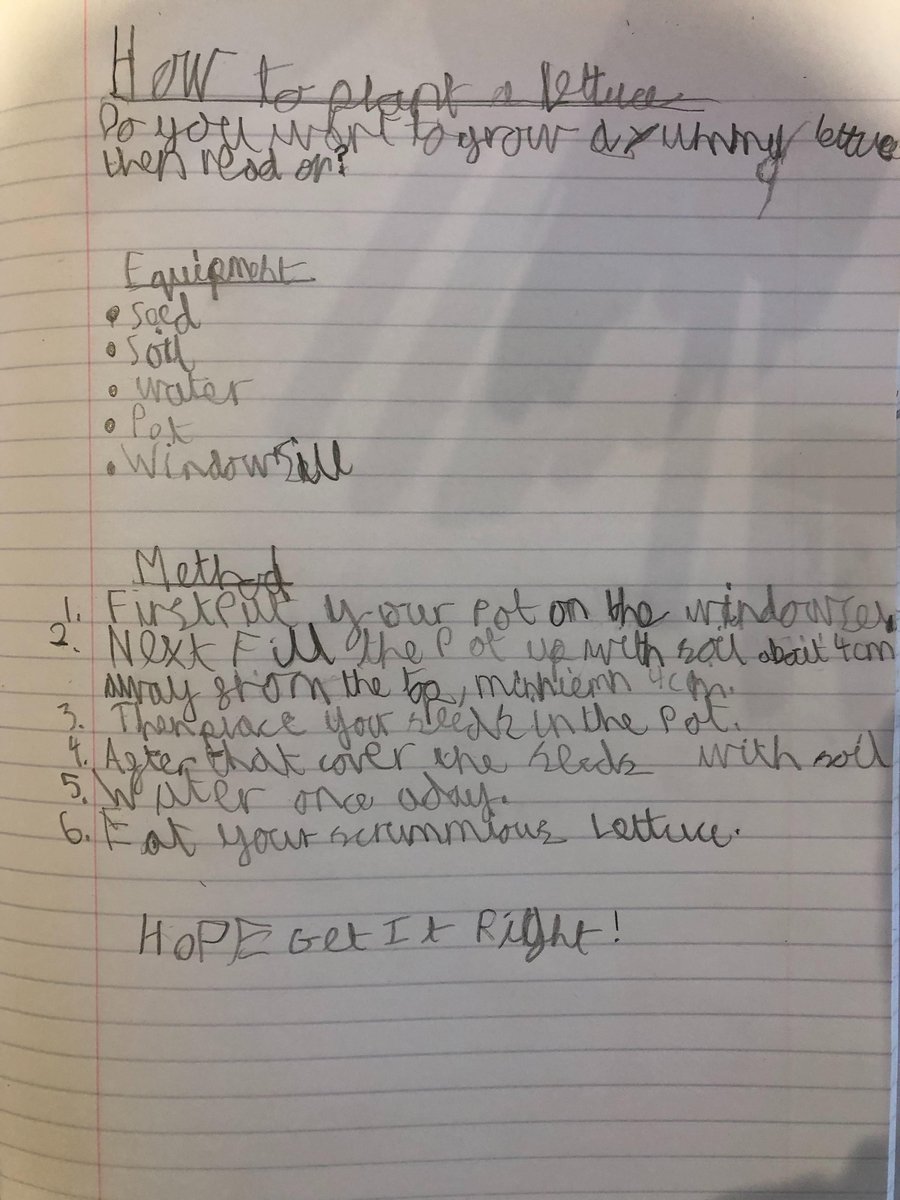 Bella has written a very persuasive letter to The Once-ler as part of her work in literacy. She has also been doing lots of research on China. She used her superb ICT skills to make an information powerpoint.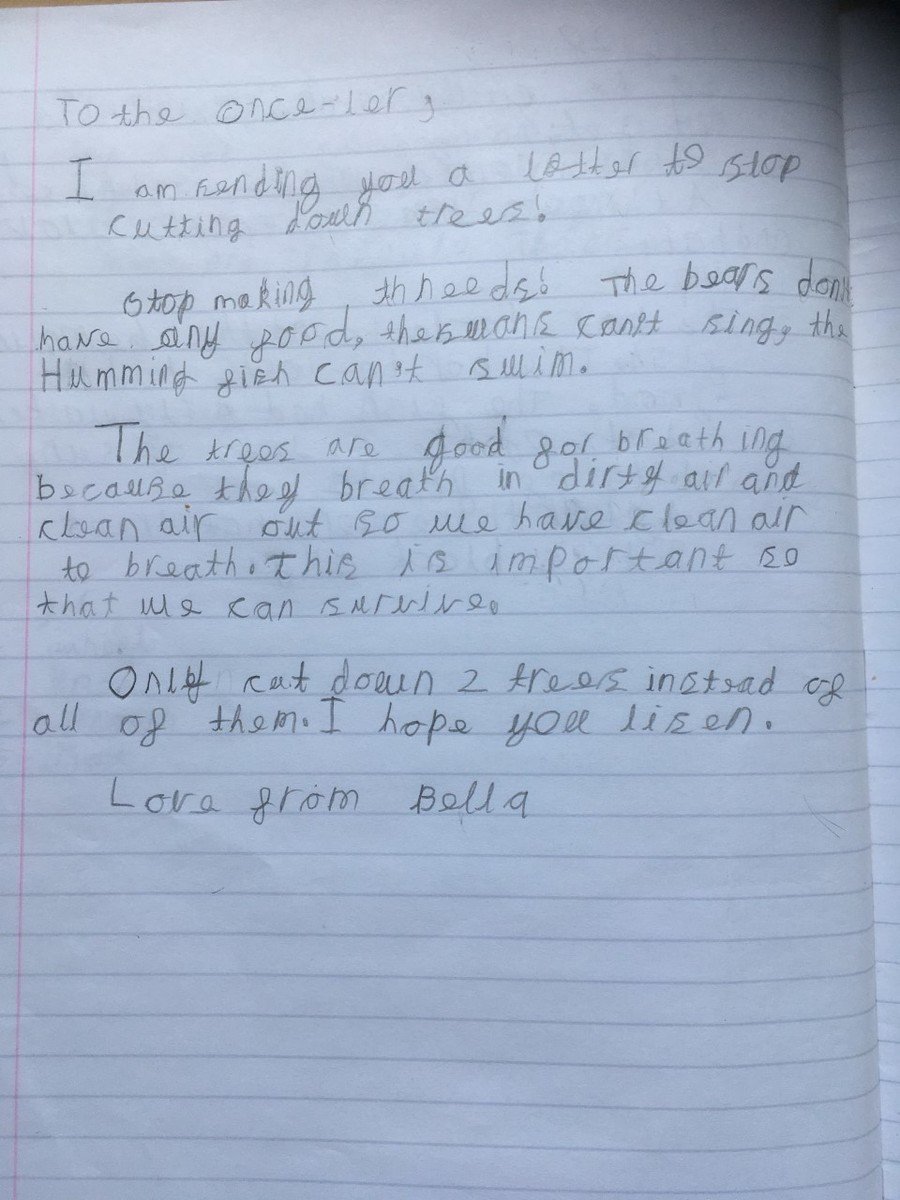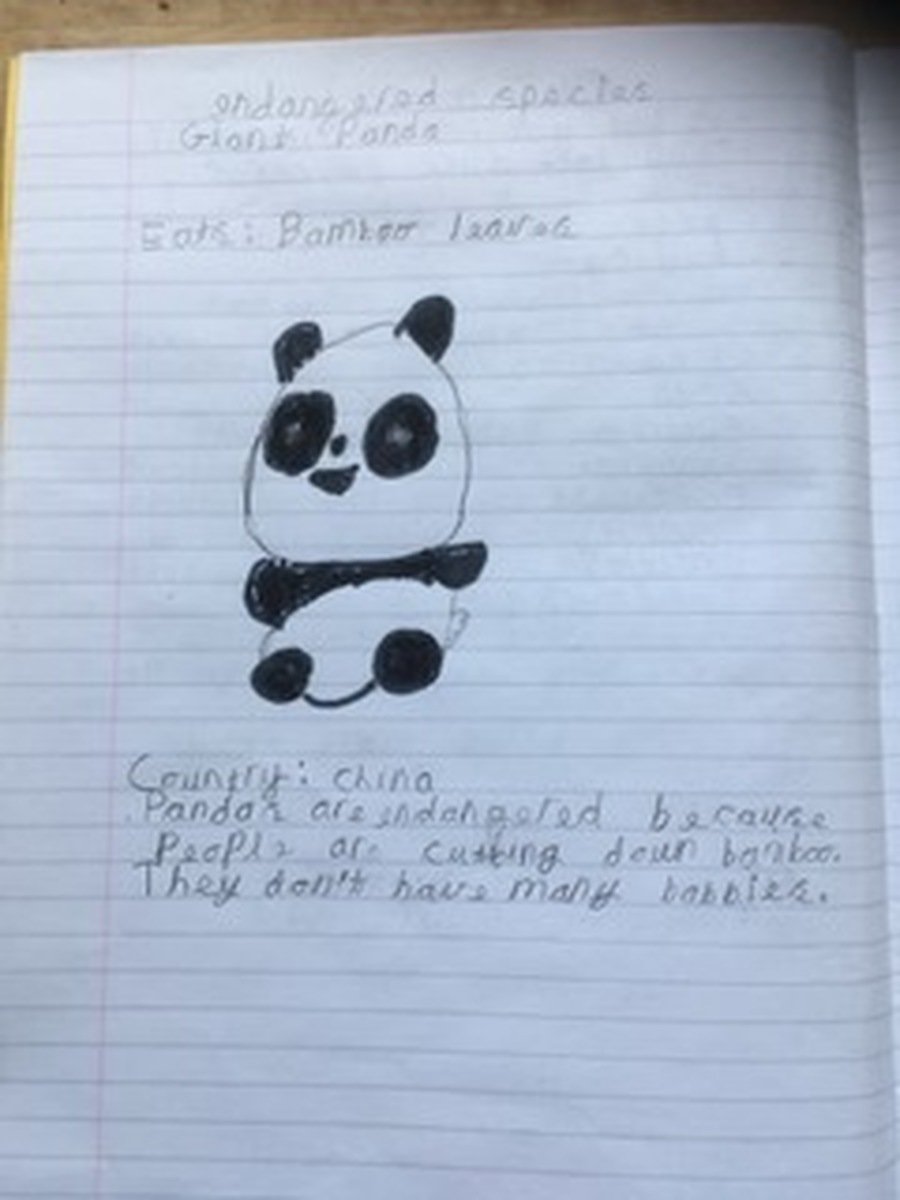 Brannagh had lots of fun making a habitat for an axolotl as part of her work in Science. Well done Brannagh! :)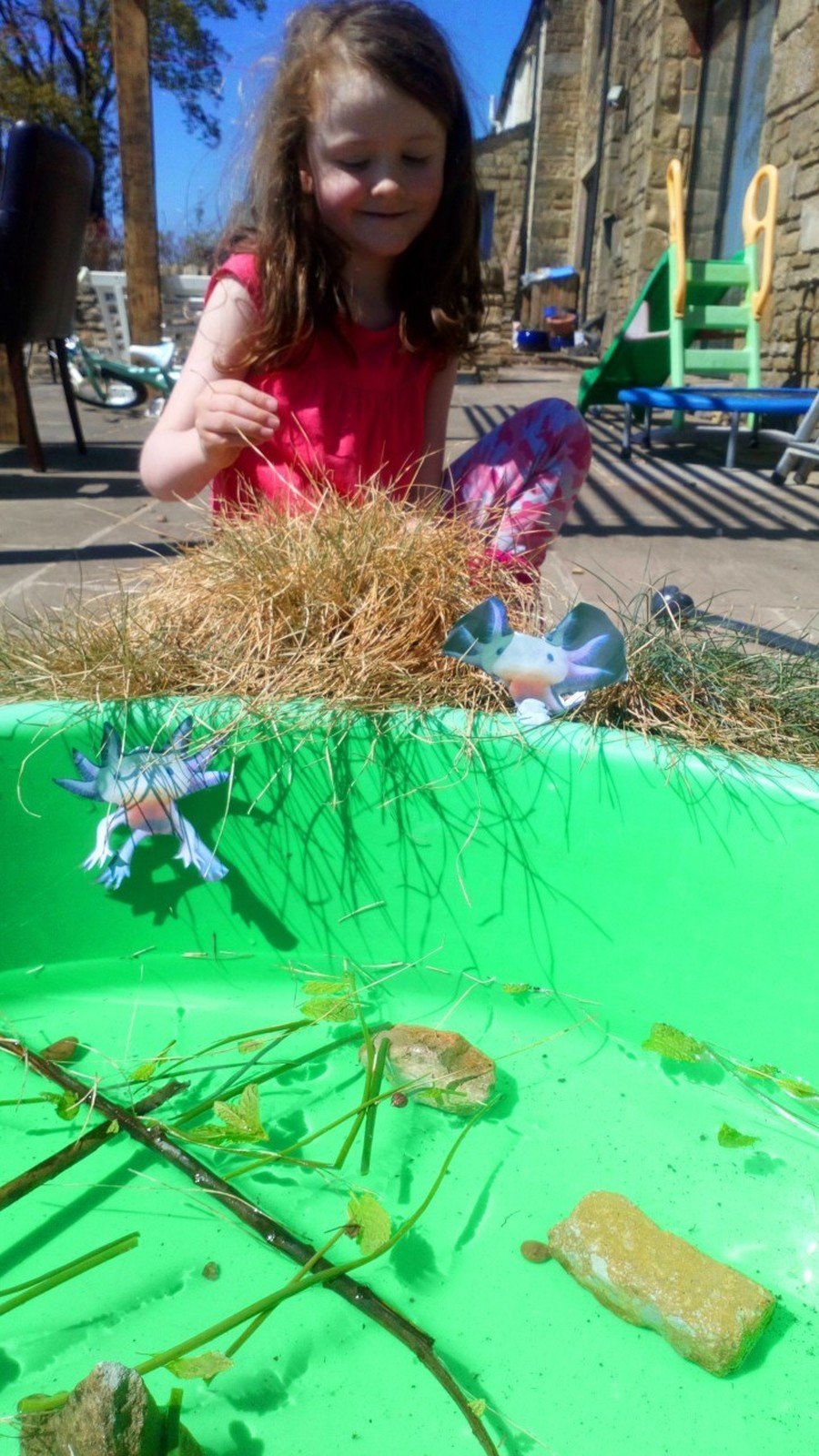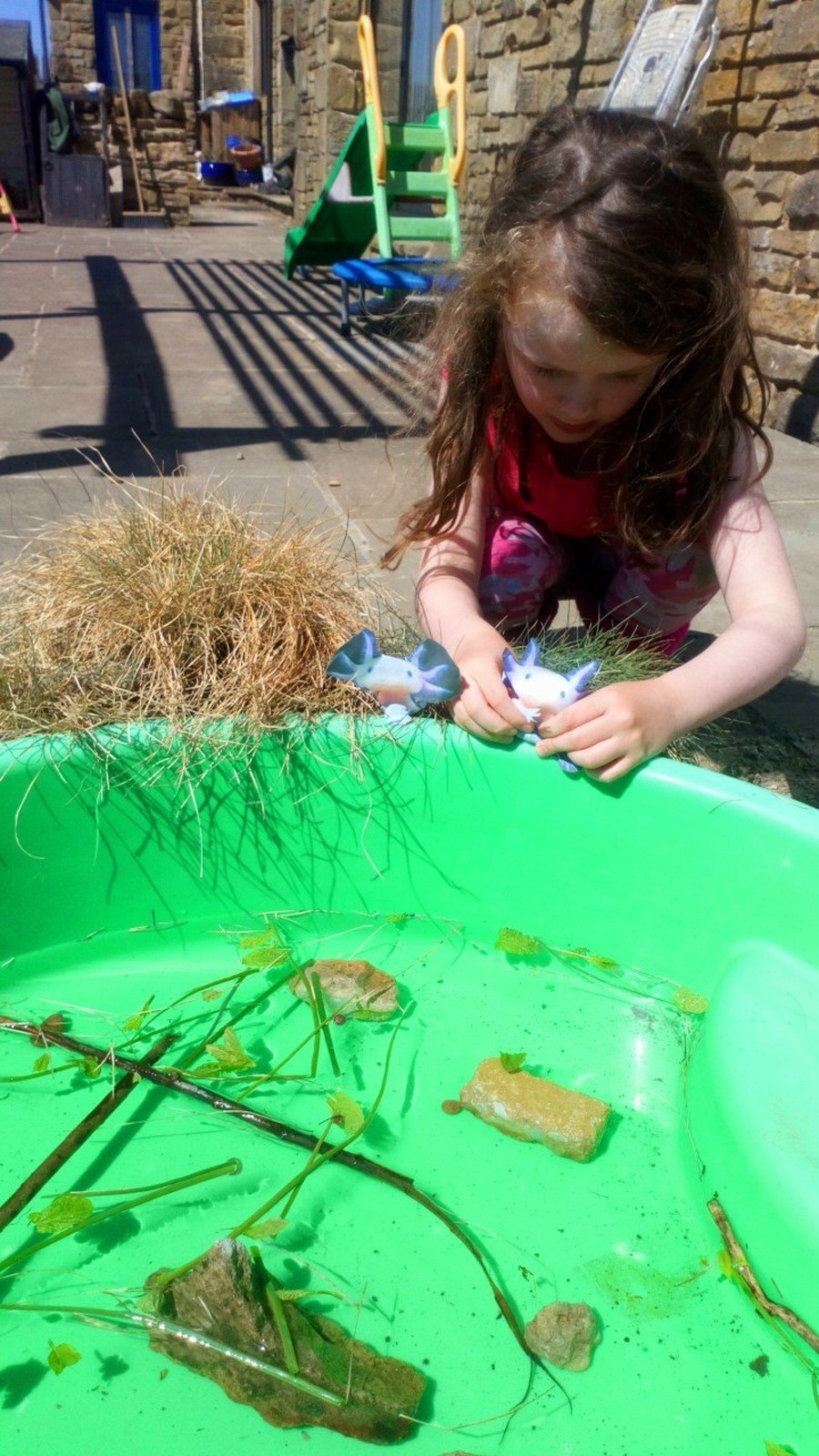 Archie has been working super hard at home this week. He has done lots of writing about our class text, The Flower. He has also been learning about the different parts of a flower in Science. He carefully chose a leave to observe an sketch and made a lovely birthday card for his Grandad too! :)
Emily has enjoyed doing online art tutorials on Van Gogh and Henri Rousseau and has produced two wonderful pieces of work. She has also printed leaves and identified which trees they came from.
Callum has been super busy with his work this week. He has enjoyed learning about China and created the flag of China using hama beads, he has drawn the land from The Lorax, predicted what our new class text, The Flower, would be about, researched and written about dugongs and carefully observed plants before drawing and labelling them. Excellent work Callum! :)
Last week, Year 2 beat Year 3 in our latest weekly Times Table Rock Stars battle!
Massive congratulations to Joseph C who was the best performing rock star and MVP on Times Table Rock Stars, not just in Year 2, but for the whole school!
Keira, Raff and Harry have been working hard to produce identity maps to tell us all about them and what they enjoy.
Raff went on a nature walk and has grouped the animals that he saw into the different animal groups.
Bella has been doing lots of wonderful work around her chosen rainforest animal- the macaw. Here is a superb picture that she did.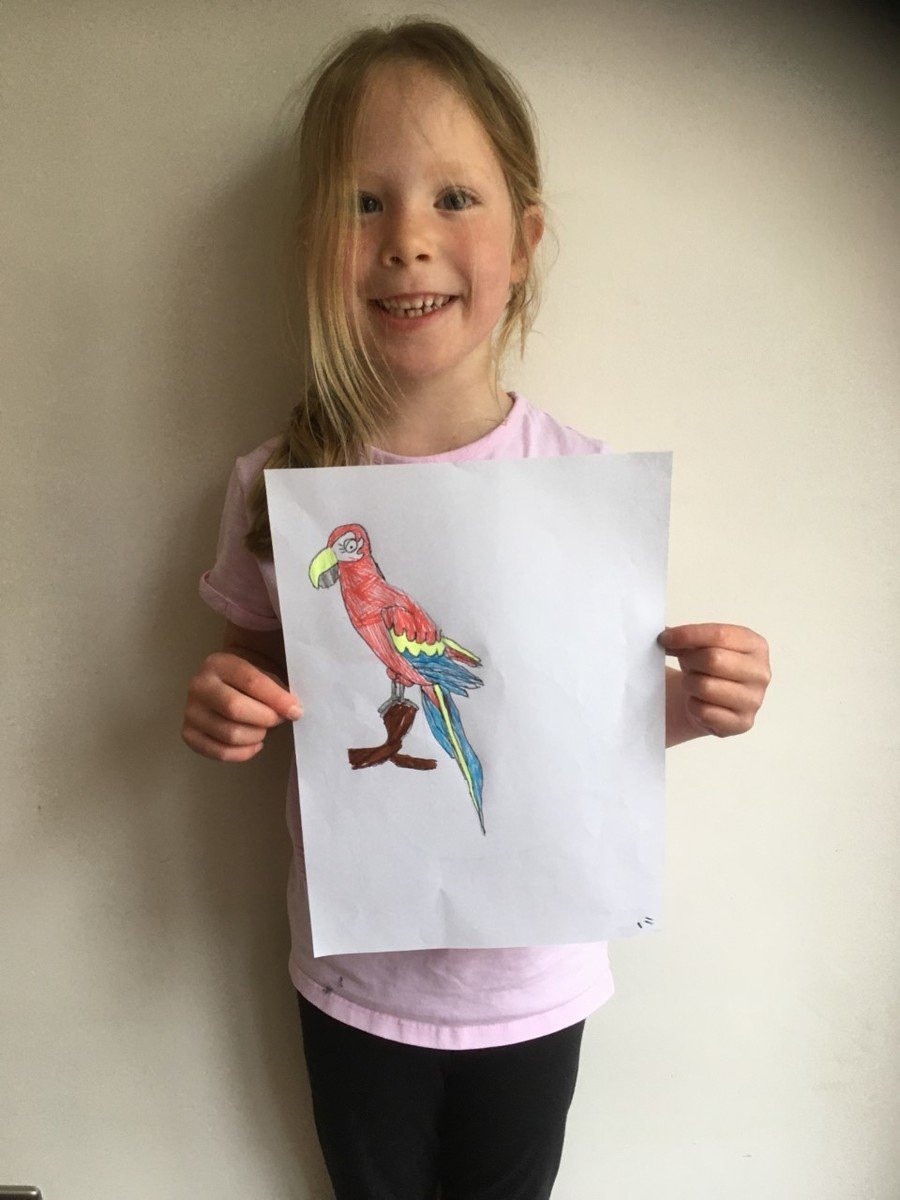 Darcy has been keeping active riding her bike and playing football. She has also been very creative, making bracelets and making a rainbow NHS poster. :)
Bella visited the Addingham Suspension Bridge and has made an excellent model of it. Fantastic modelling Bella!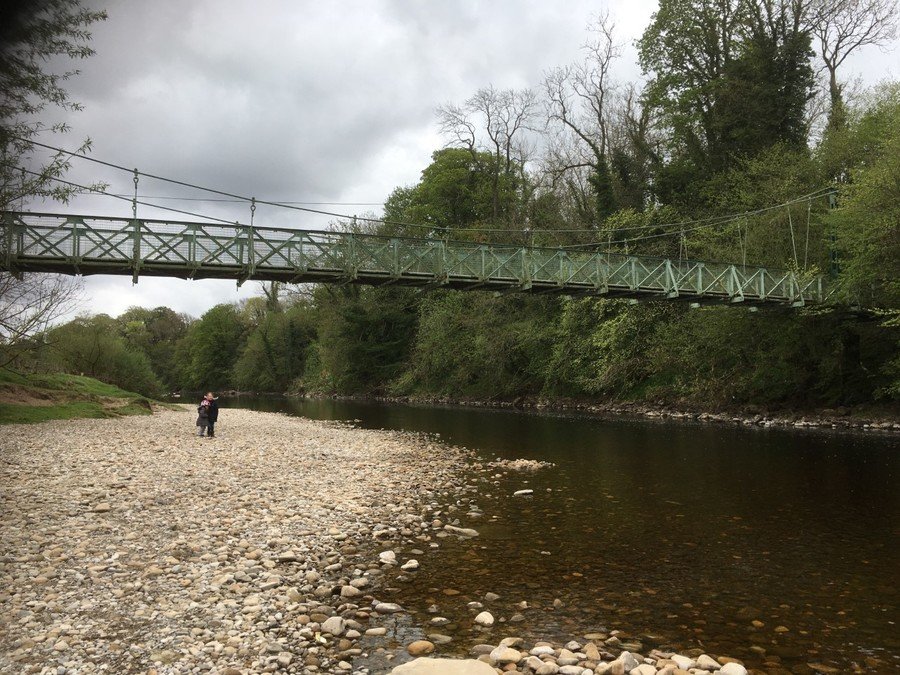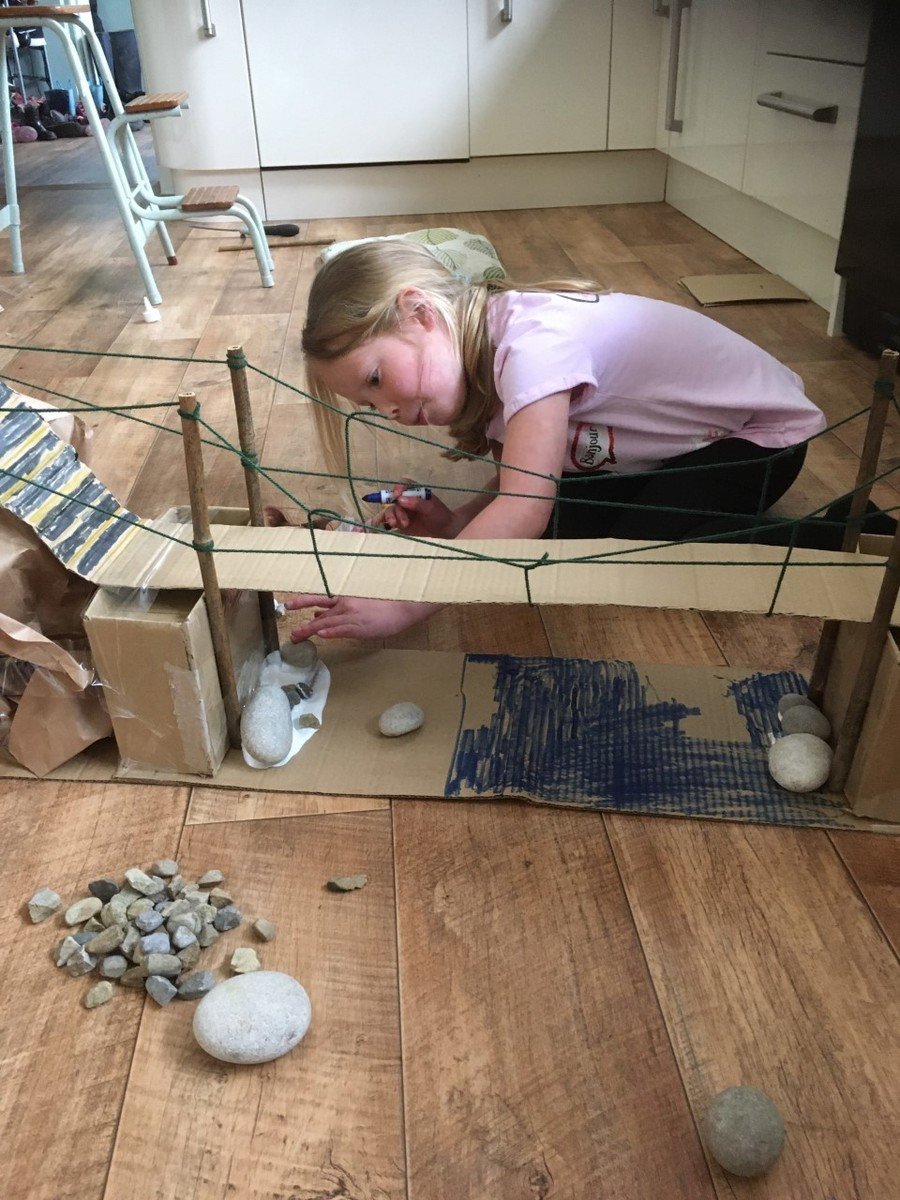 Click below to see Callum's fantastic work! He has written some great information about the red-footed tortoise and a very persuasive letter to the the Once-ler. He has also painted the Addingham Suspension Bridge as part of our geography work.
This week, the children have started our topic all about China. Take a look at Harry's flag of China and then Isabel and Rafferty have had a go at creating their own flag for China.
Have a look at Rafferty's amazing PowerPoint telling us about some of the main locations you can find in our village.
Darcy Mu made a collage of one of the stops on our blue plaque trail of Addingham. How good does this look?!
Harry and Jasmine had fun drawing their own map of Addingham and labelling important information. Wonderful geography work!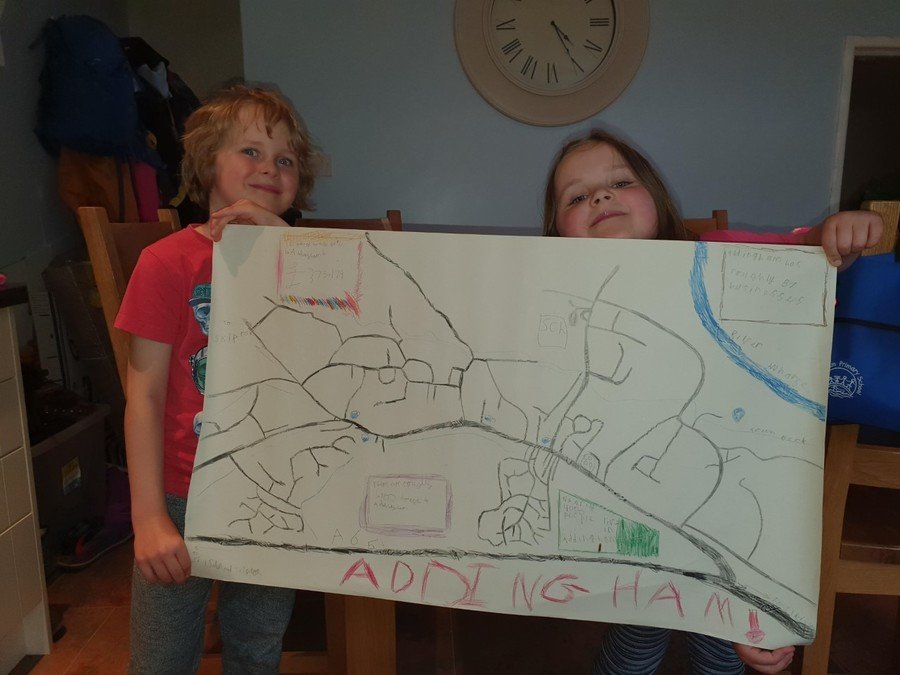 Maisie has been working hard to create a presentation all about Addingham. She found out lots of information and included photographs of different places in the village. :)
Harry found out about Addingham by interviewing his family and neighbors. He found out some very interesting details from this!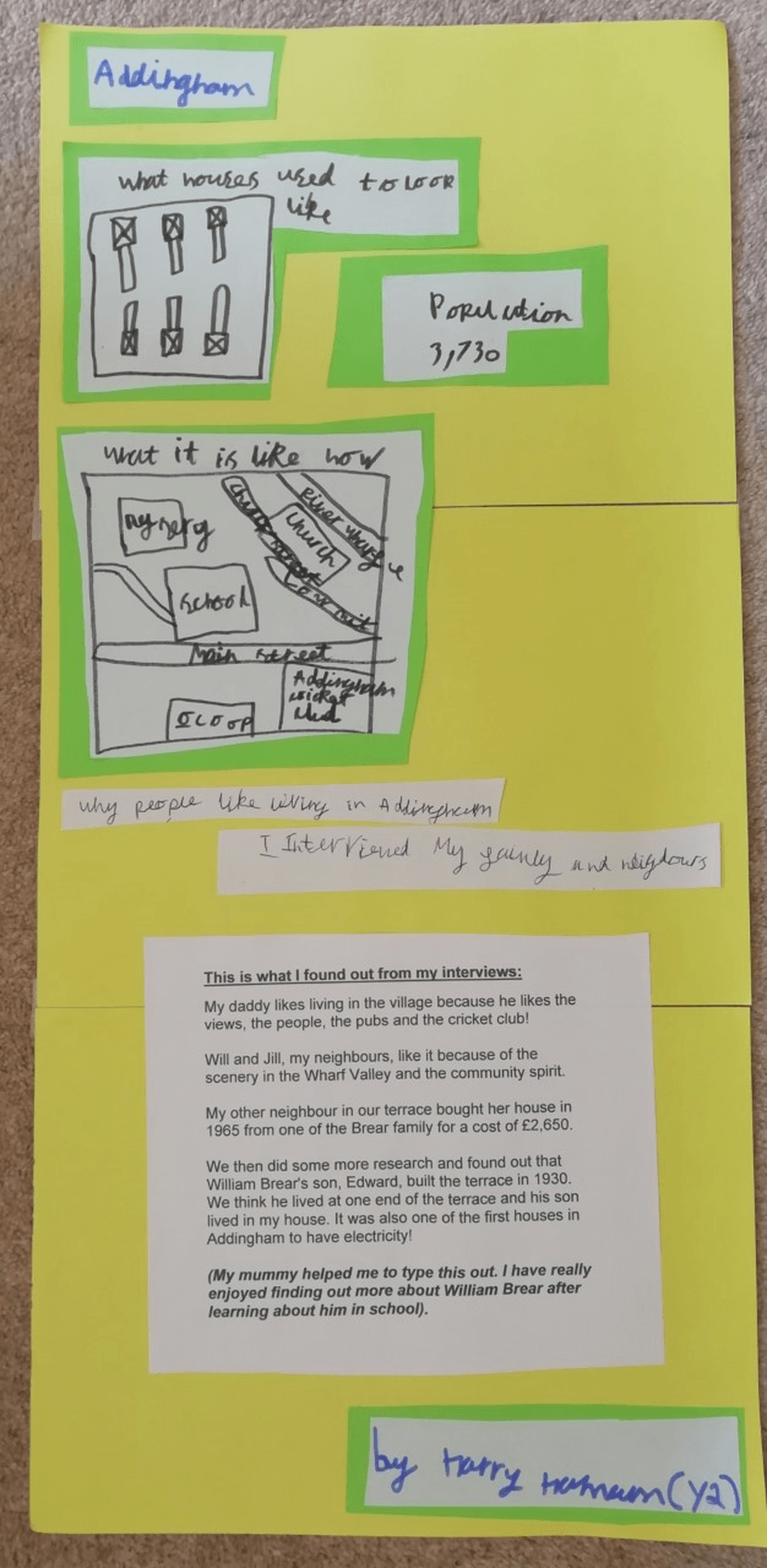 Isabel has made a lovely poster with lots of facts about Addingham. She has drawn two pictures of important landmarks. Well done Isabel!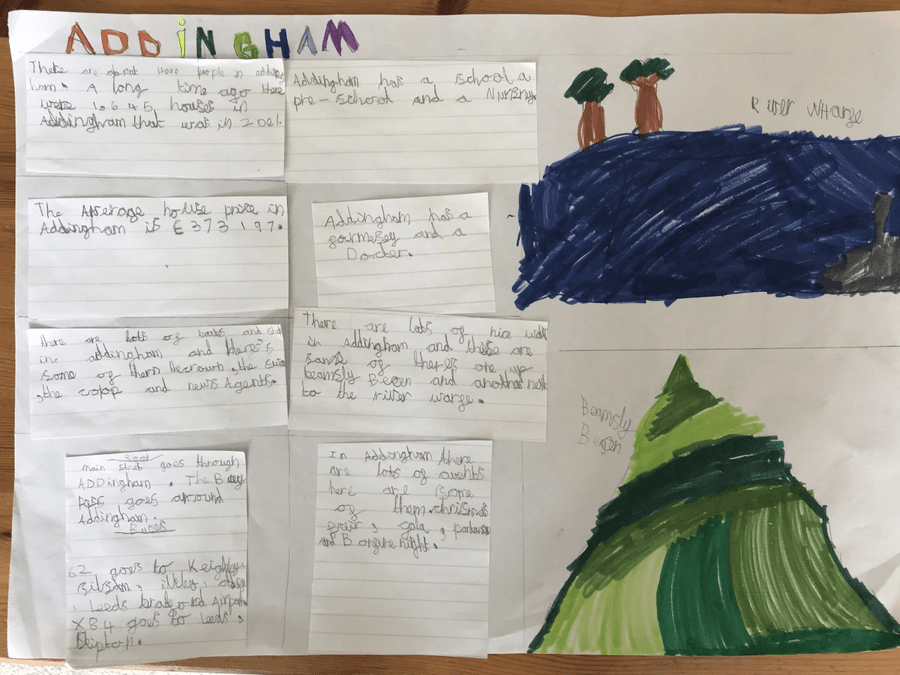 Check out Isabel's solar system model made out of recycled materials!
Ruby has been busy using her computer to make an information poster about Addingham. She has used lots of photographs and factual information. :)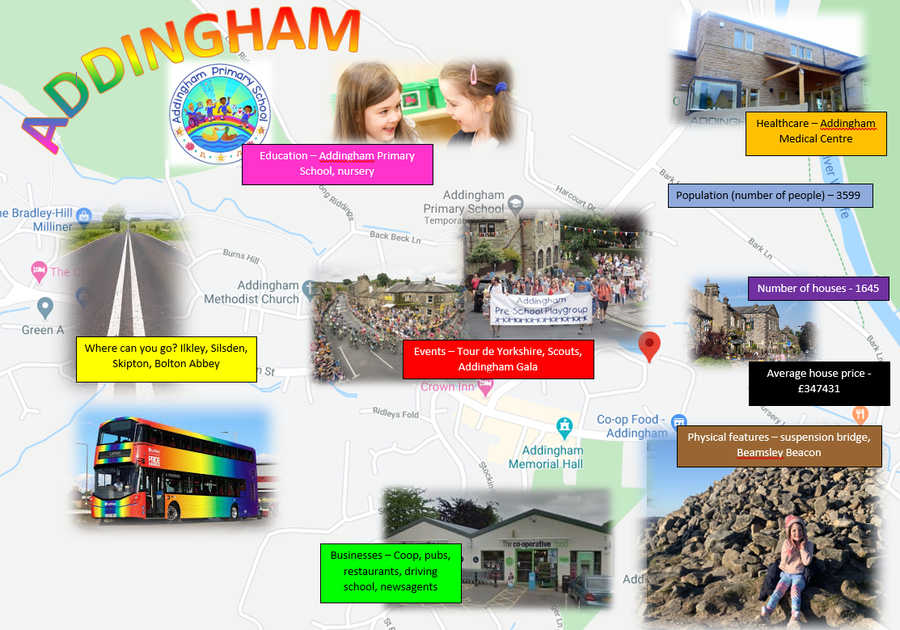 Lucas did some research on Addingham and even created a graph to show the ages of Addingham's population! Super geography work! :)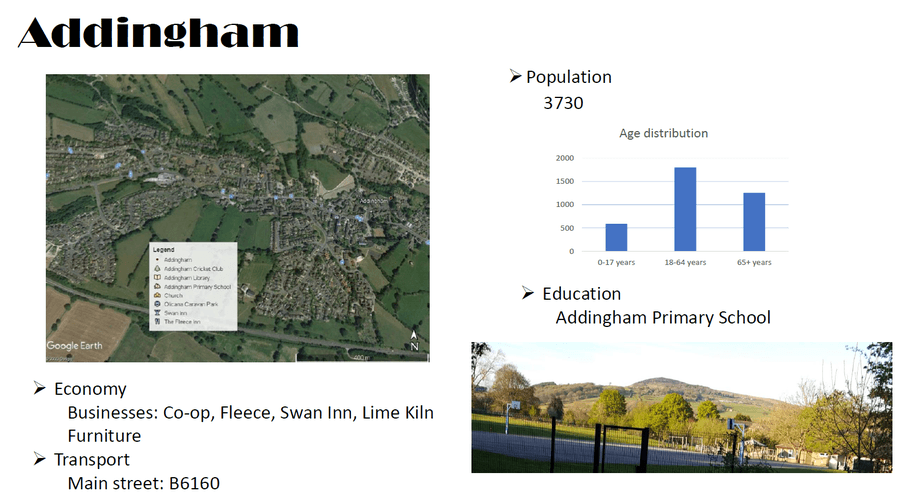 Joseph found so many human geography facts about Addingham and presented them in a spider diagram. Excellent research!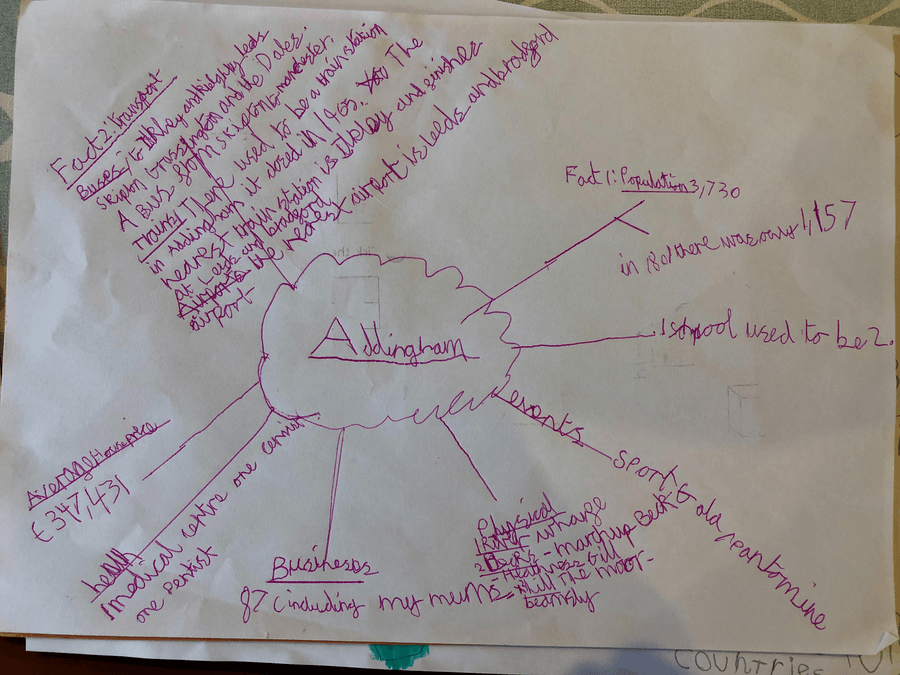 Joss did some research about Silsden and made a great human geography fact poster. He created little flaps that have information underneath.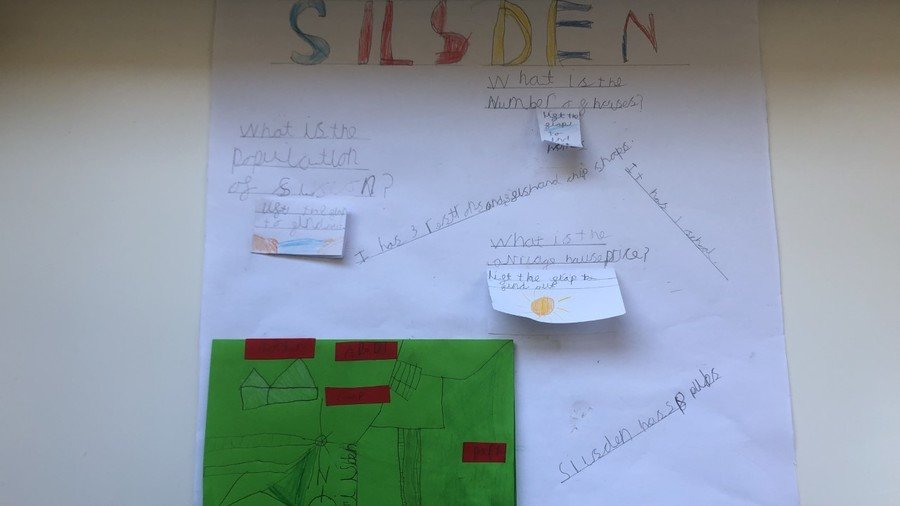 Harry and Jasmine have worked hard this week and have thought of some super describing words for The Lorax and the Once-ler. Around the edge they wrote questions that they would like to ask characters from the story. :)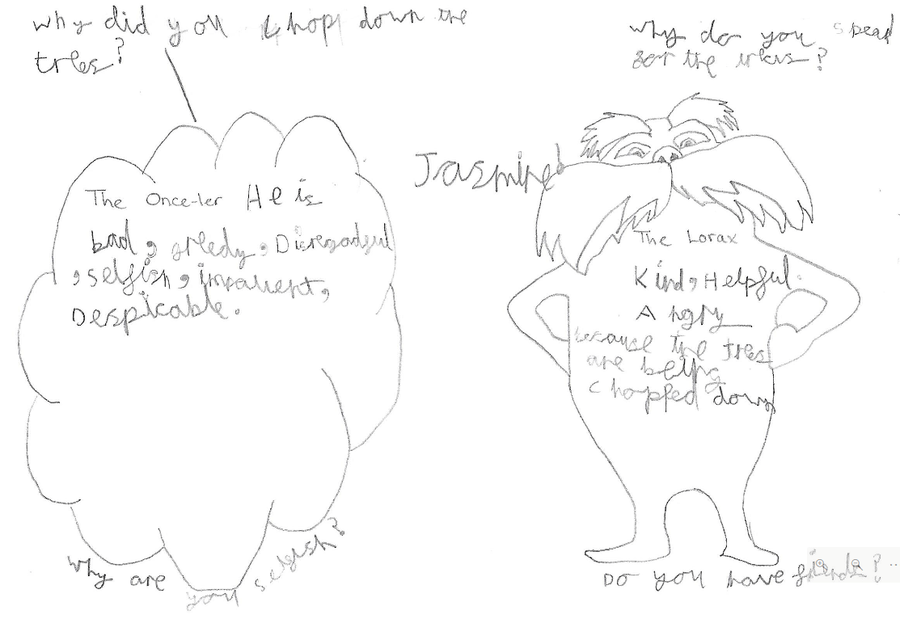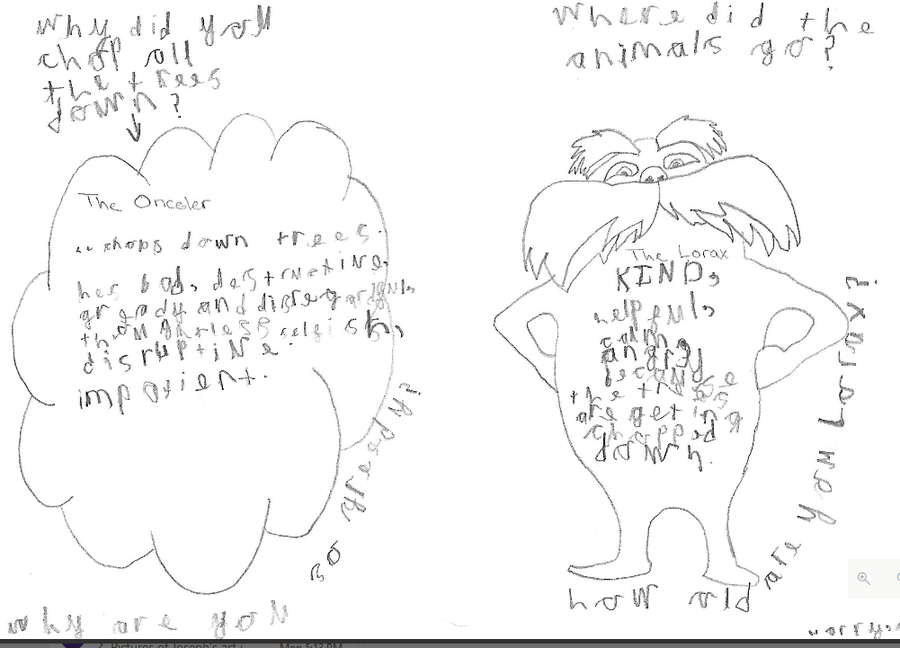 Florence has written a great description of the setting in the Lorax. She has worked so hard to use interesting adjectives and adverbs. Well done Florence!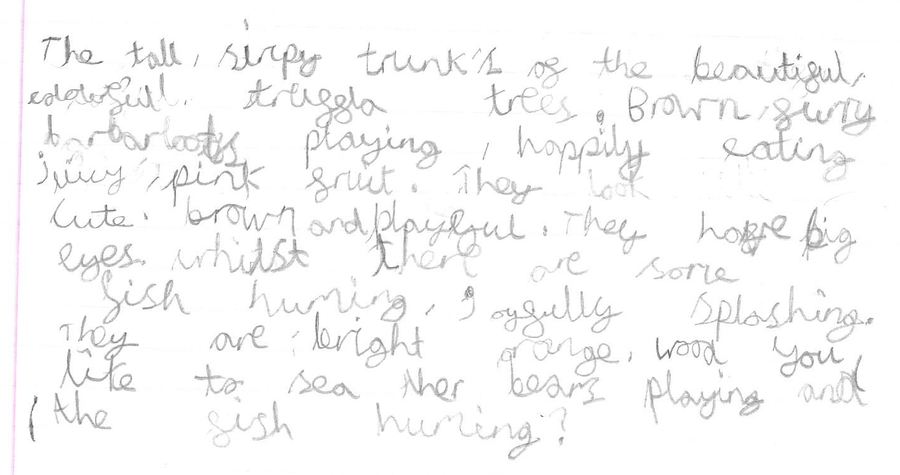 Emily reused an Easter egg box which she painted blue to create an ocean habitat. She used rocks that she collected herself and made sea creatures from clay. Lots of creative ideas here. :)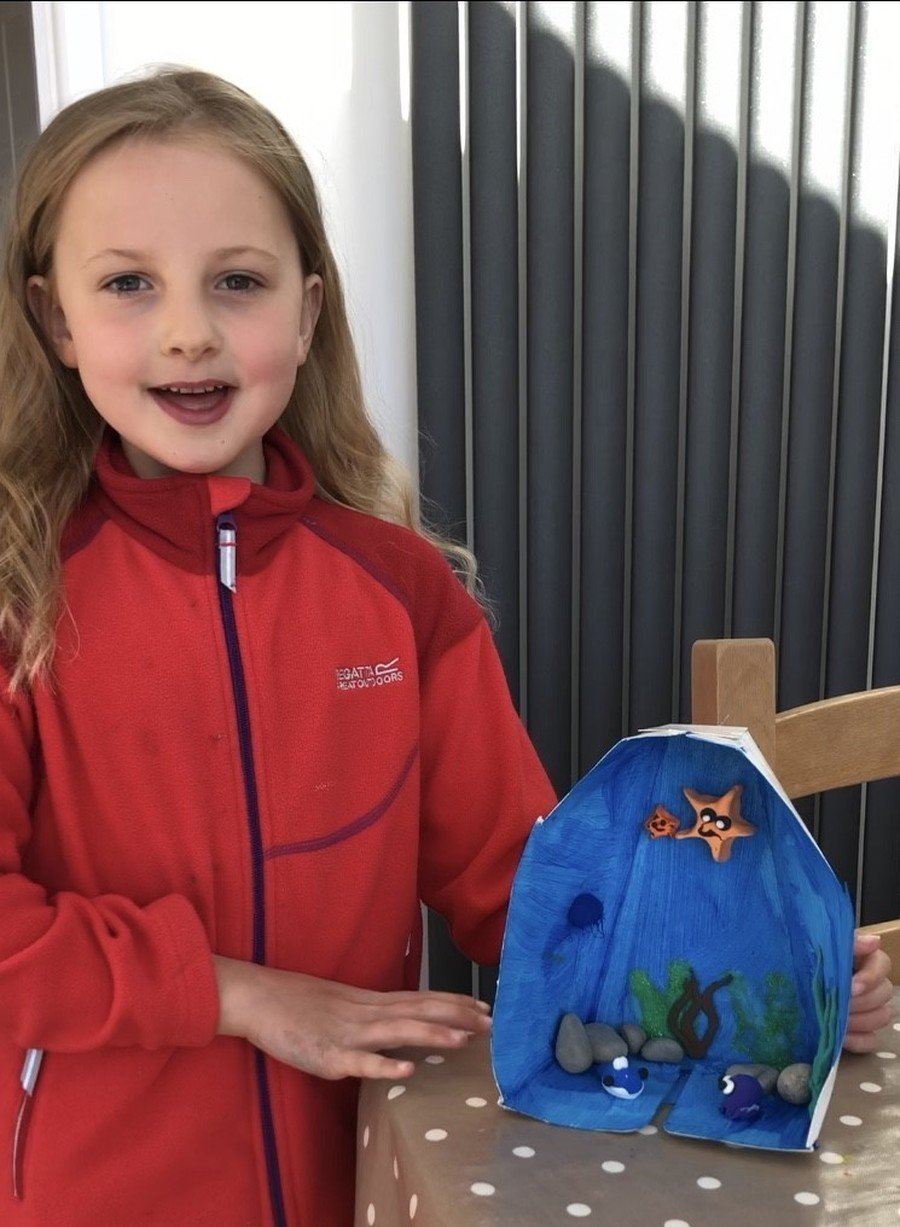 Joseph has been busy creating wonderful habitats by using recycled materials. Great job Joseph!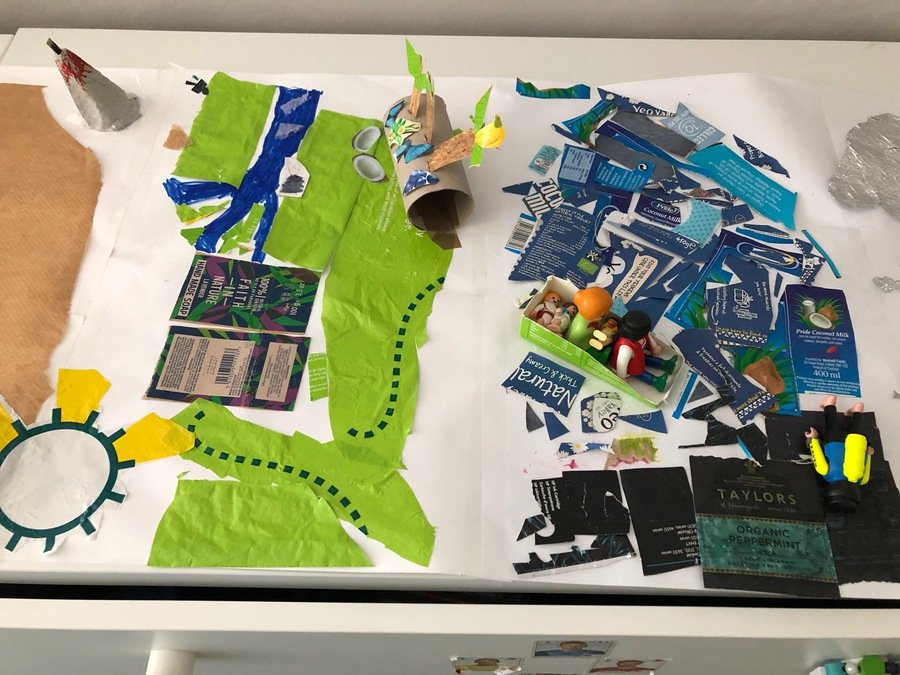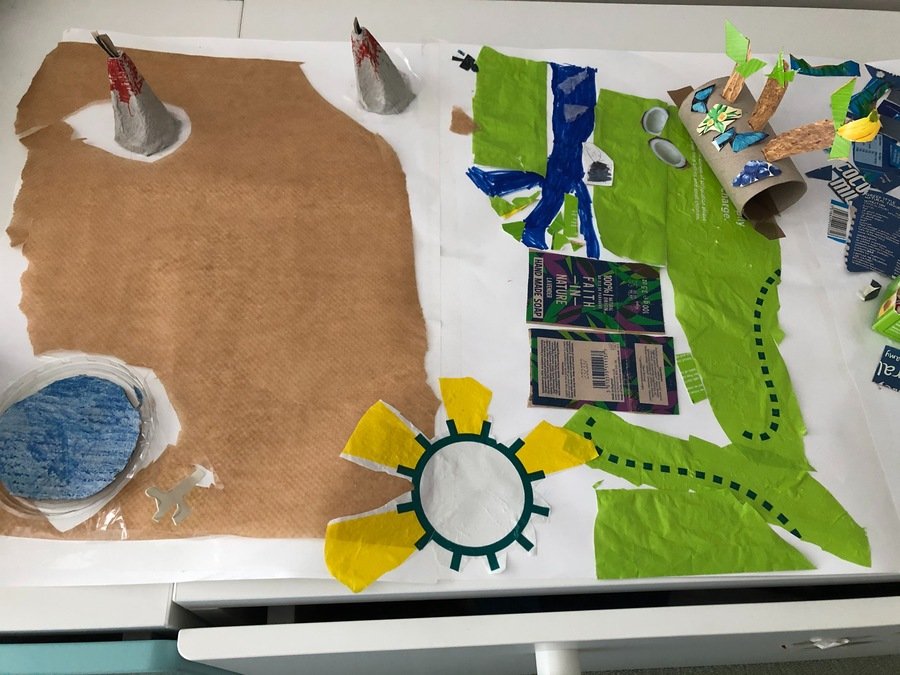 Harry and Jasmine have been working hard and have written some excellent book reviews about The Tin Forest. Great writing! :)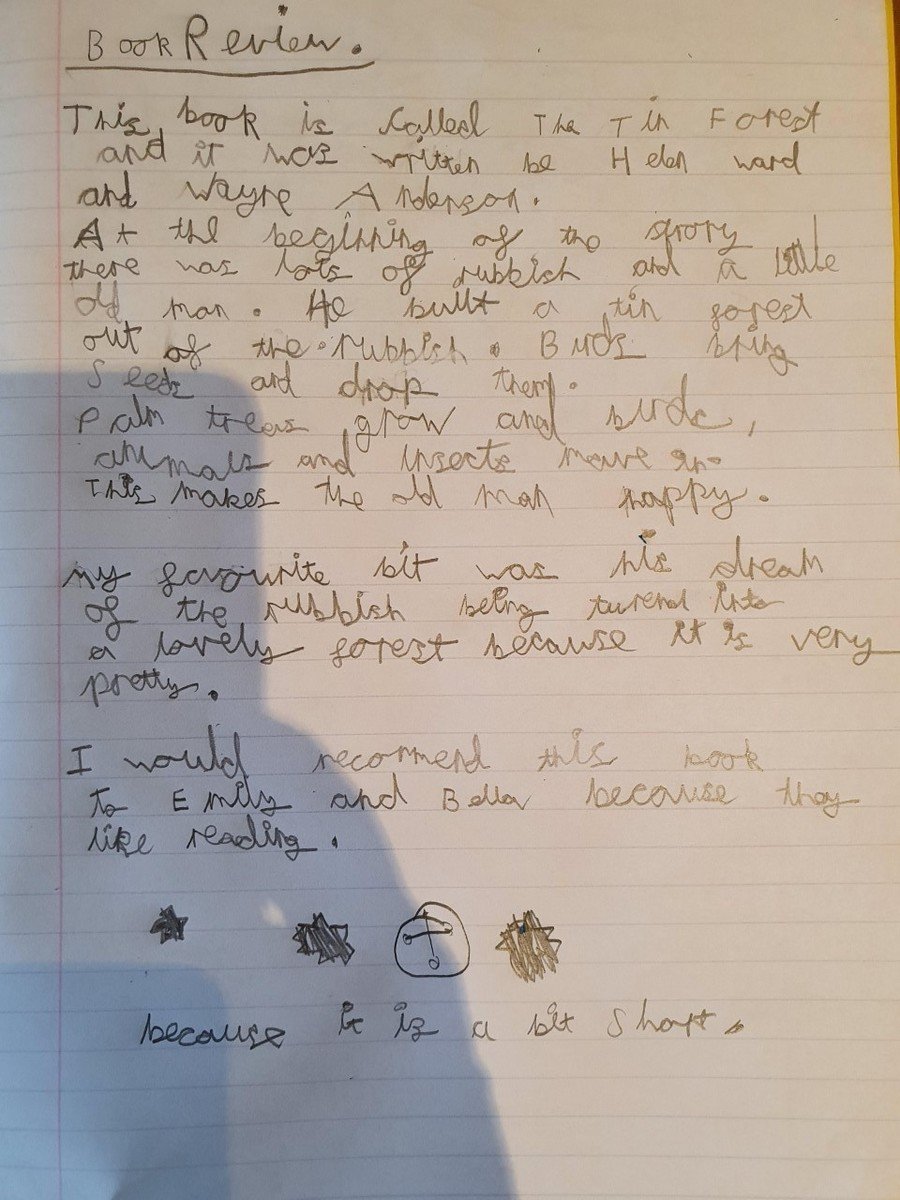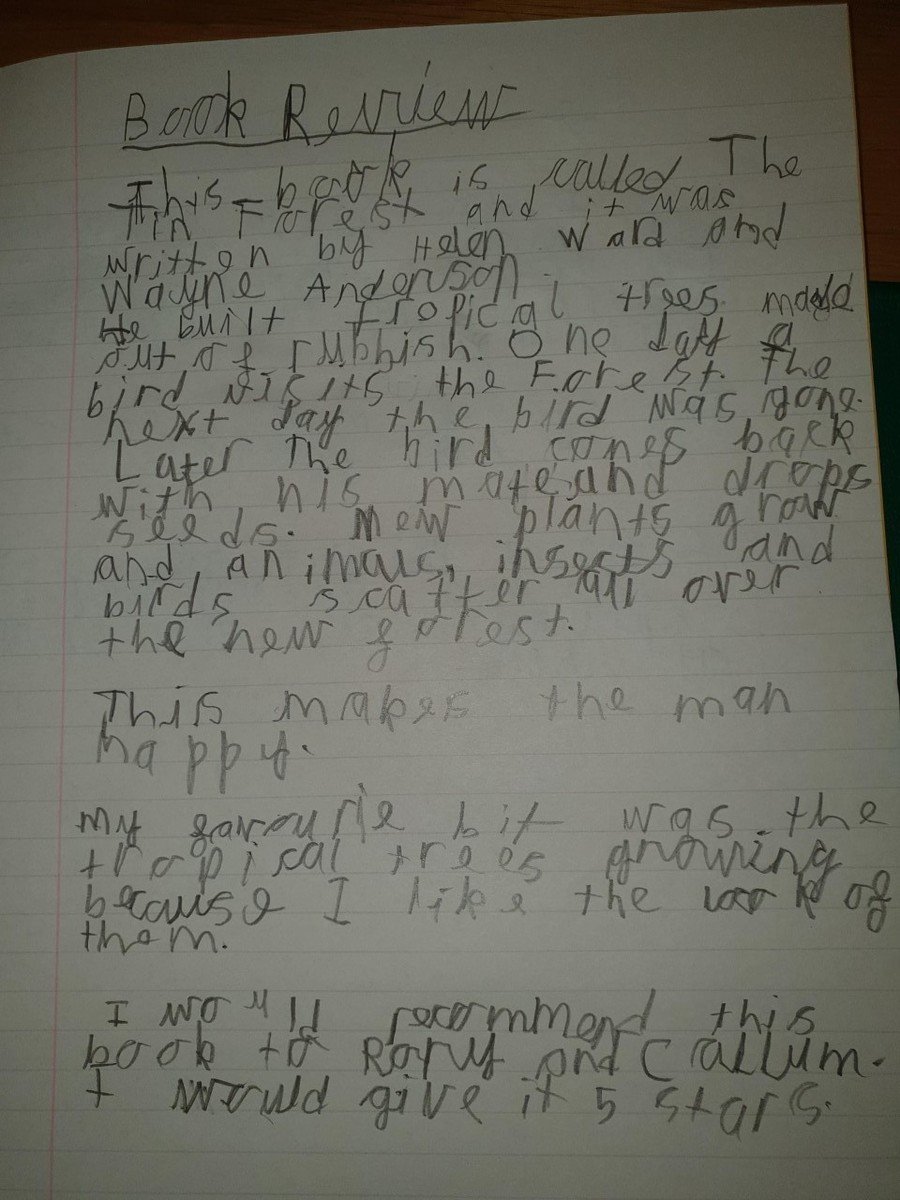 Ruby used The Seabook (a book we've read at school) for inspiration to create her own version of the pages. The artwork and colours are beautiful.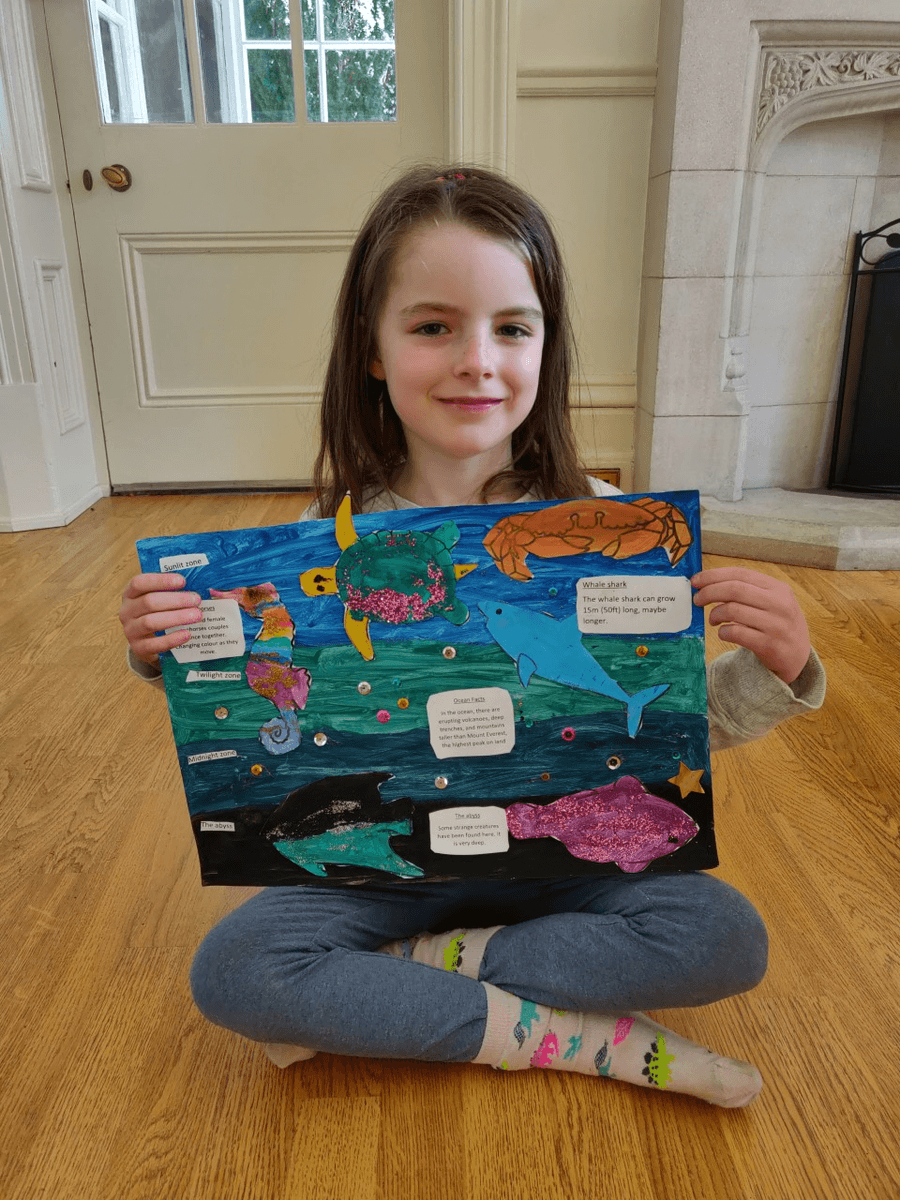 ICT/ Maths
As part of our healthy week we looked at the impact that exercise has on our breathing rates. We collected data on the number of breaths that we take in 1 minute and then used this to compare the breathing rates before and after exercising by creating a comparative bar chart.
TIMES TABLES ROCKSTARS!!!
Just before the holidays we launched our Times Rables rockstars by having an awesome Rockstar day! Check out some of Year 2's quality rockers and even a selfie with Mr Duxbury!
The Great Fire of London
In Literacy and History we have been learning all about the Great Fire that destroyed London in 1666. Here are some videos of us explaining how we know about the events that took place over 4 days in September 1666 all these years on.
R.E
As part of our RE lessons we looked at the Jewish festival of Sukkot, the 'Festival of Booths'. The children enjoyed learning about how the Jews celebrate their freedom from slavery so much they made their own Sukkah's using lego for the walls and natural materials for the roof's.
ENERGY.
As part of our PSHE we have explored the use energy around our school. We looked at renewable and non-renewable energy sources and made a pledge that we would try and stop wasting as much energy by;
Turning off lights

Not leaving devices on standby

Washing quicker in the shower
Here are some things we found in school that use electrical energy!
Music
We were lucky enough to be visited by our very own Music Man, who showed us all about several woodwind and Brass instruments that we could learn to play ourselves.
Rafferty has been doing his own extra work and has been learnign all about the Roman Empire. Check it out below.
Evelyn, Keira and Maisie have produced some fact files on endangered species and Keira has given us an explanation of what the word 'endangered' means and how we can help.
Rafferty, Isabel and Keira have produced some amazing work about flowers, labelling them and describing them. Take a look and see if you knew any if these amazing facts,
Keira and Isabel did some amazing work replicating some of their favourite artwork using household items! Budding little artists we have!
Jensen has been working so hard learning about the rainforest in Science. He found lots of food at home that contain ingredients that can be found in the rainforest. He also found out some amazing piranha facts!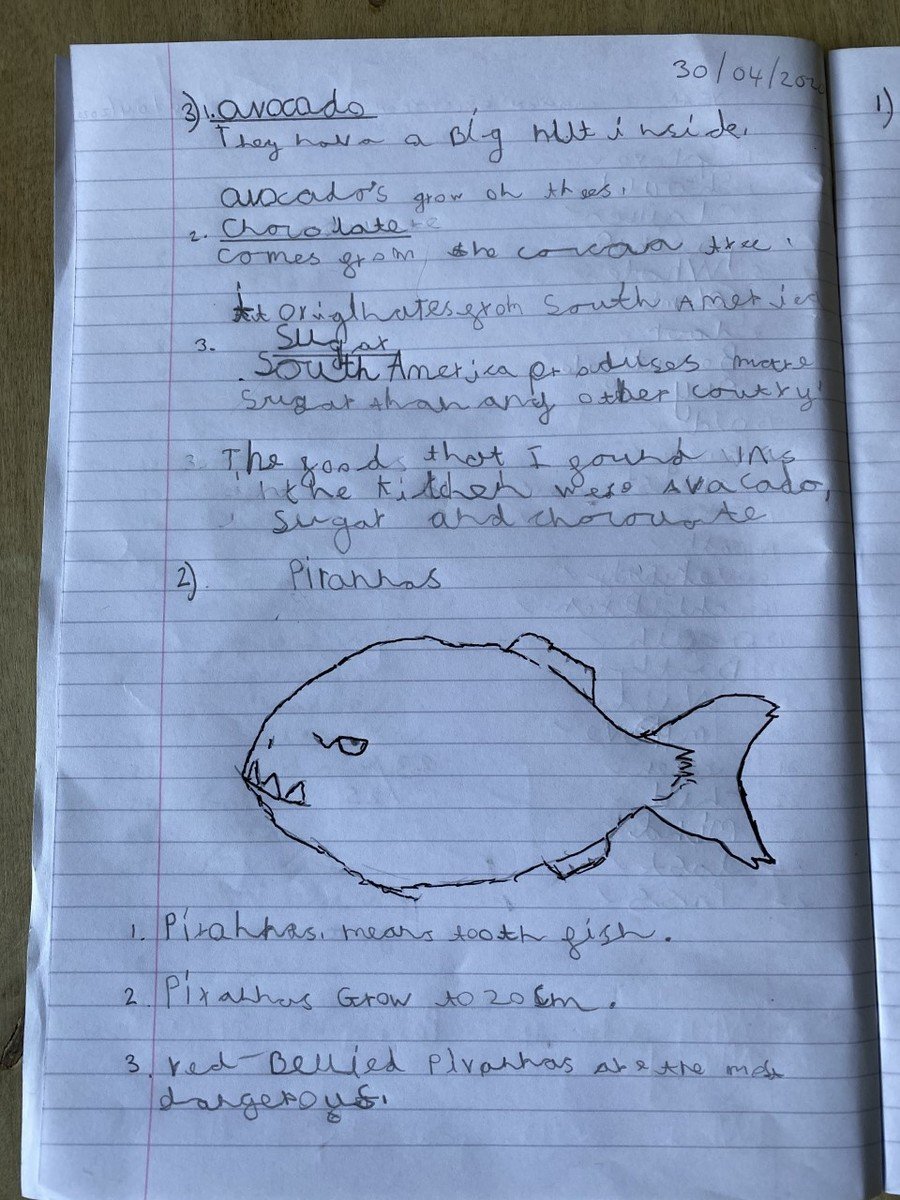 VE Day.
This week the children will be completed a number of activities to celebrate VE day to celebrate the 75th anniversary of the end of world war 2. Watch this space for our updates. In the mean time, why not have a go at these war time recipes yourself.
Emily has done some lovely surrealist artwork on Low Mill. She has sketched carefully and used some beautiful colours. She has also worked very hard on her literacy this week when reading The Lorax. Well done!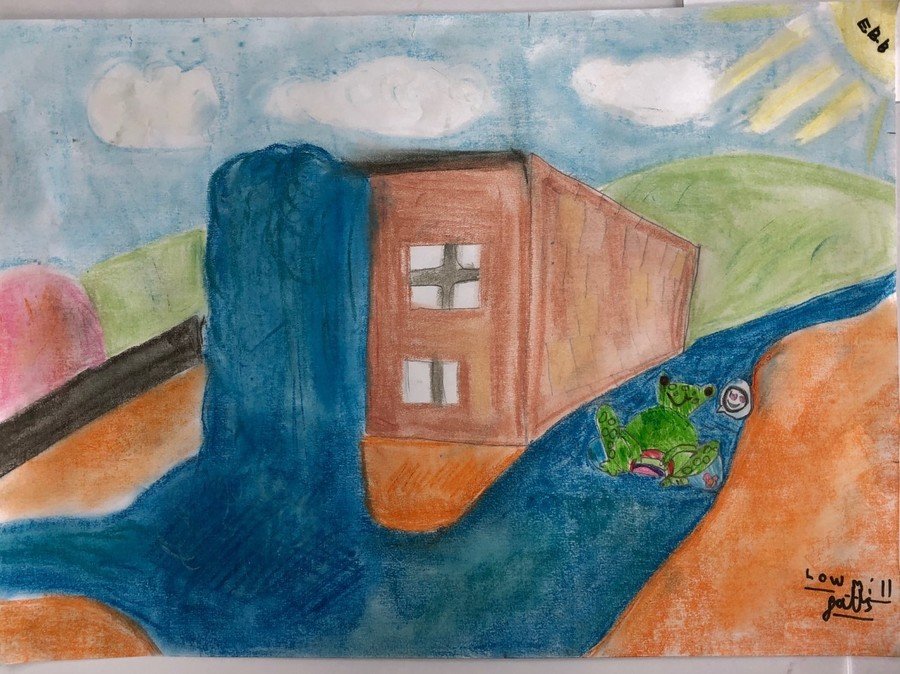 Joss has been finding out about the types of houses in Silsden and Addingham and has made this wonderful collage from newspaper. Well done Joss!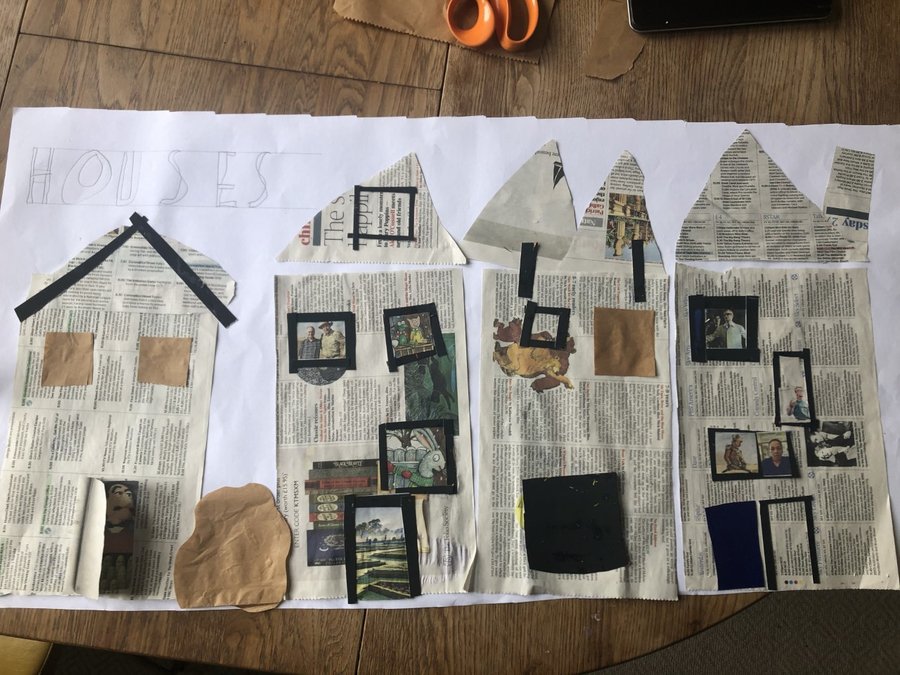 Harry and Jasmine have written some lovely descriptions of the land from The Lorax. Click below to read!
Harry and Jasmine have done some excellent research on rainforest animals. They found out some very interesting facts and presented their findings beautifully! :)
Archie has been busy building rockets and finding out lots about Addingham! Well done Archie!
Maisie has been very busy this week and has produced some wonderful writing using subordinating conjunctions to describe some very special swans!
Rafferty and his family were did some work looking at what they could recycle at home. They even decided that they were using too many plastic milk bottles so are now getting mil delivered in glass bottles that can be reused to help our environment.
Darcy Mu showed us all of the things that his family were recycling this week!
Have a look at Maisie's description of the Once-lar from The Lorax.
Keira Produced a wonderful powerpoint to tell us all about Sloths. Where they live, how they have adapted to help them survive in their habitats.
Polar Bears, like them? Check this out from our polar bear expert, Maisie.
Jacob and Keira created some amazing rainforest artwork based on our Science learning around habitats.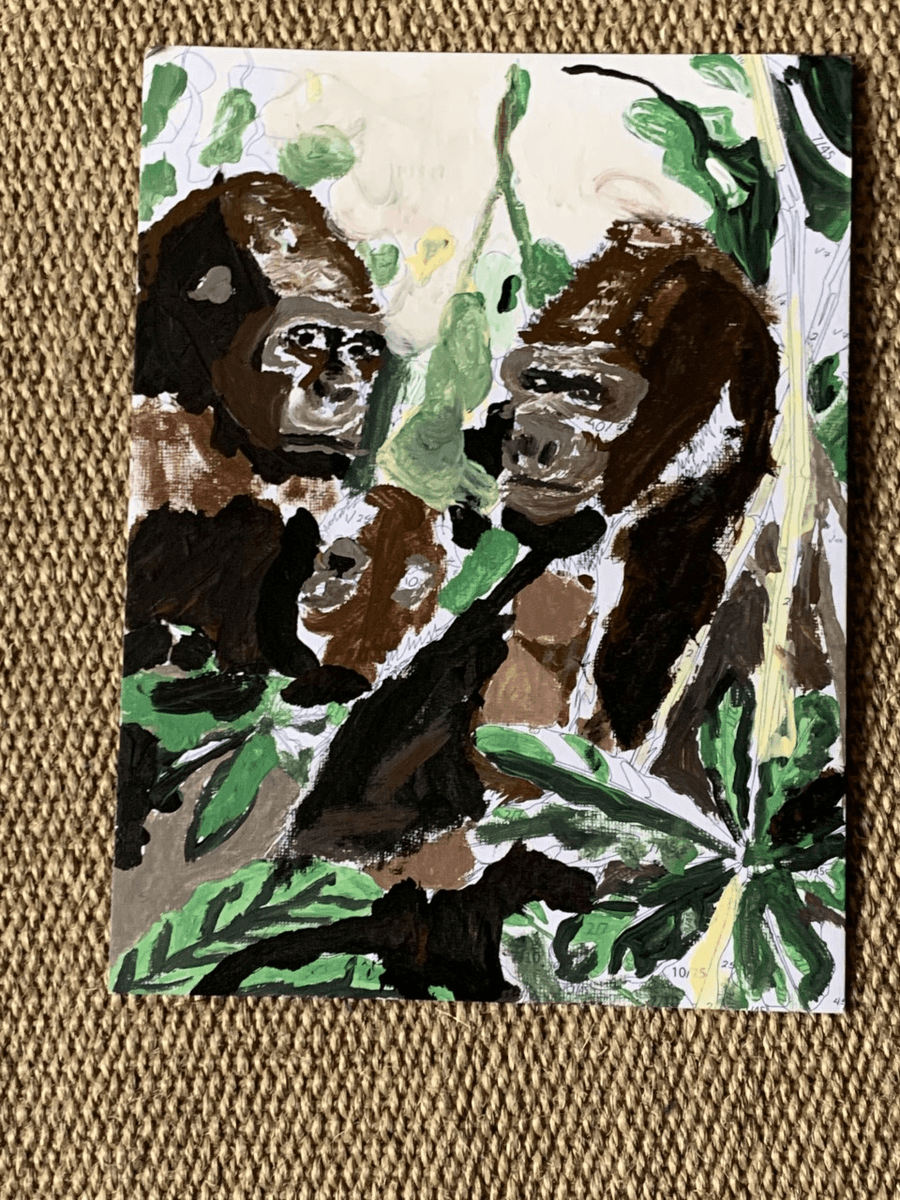 Isabel has done some amazing writing, check it out below
Keira enjoyed making her den as part of our geography work this week!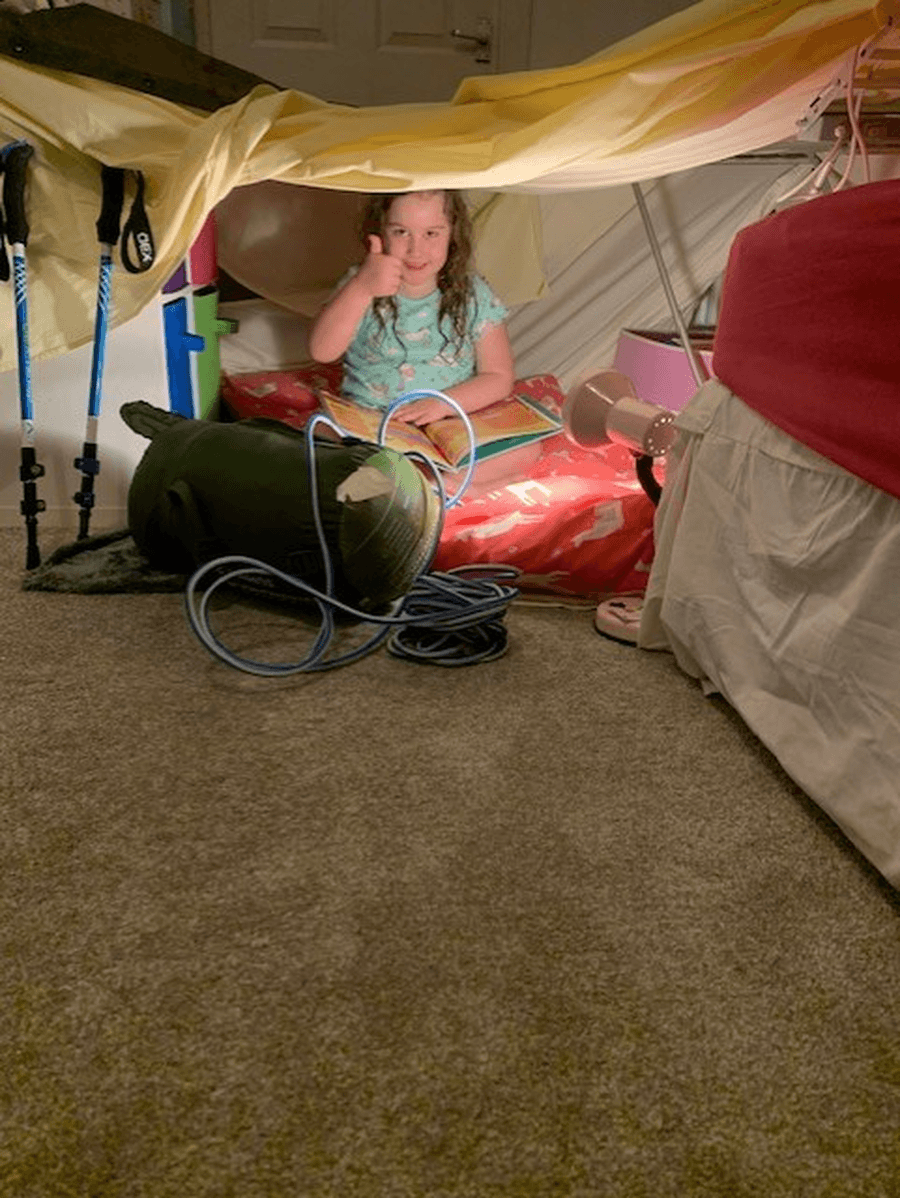 Rafferty has had a go at our Rainforest artwork/ information sheet and has produced this masterpiece.
Emily and her brother have been helping to look after the environment. On their walk, they decided to pick litter. They collected lots of plastic out of the stream and put it in the bin. Thank you for helping to make our world a safer, lovelier place to be. Great work!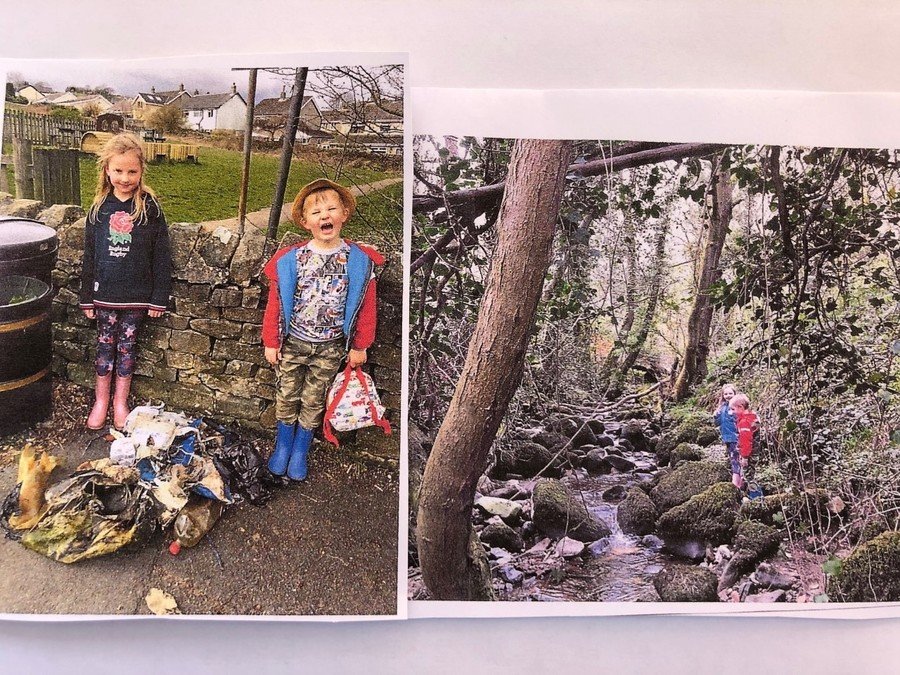 Ruby has drawn a colourful picture of the setting from the Lorax and has typed a fantastic description below. She has used some fabulous descriptive language! Super writing Ruby!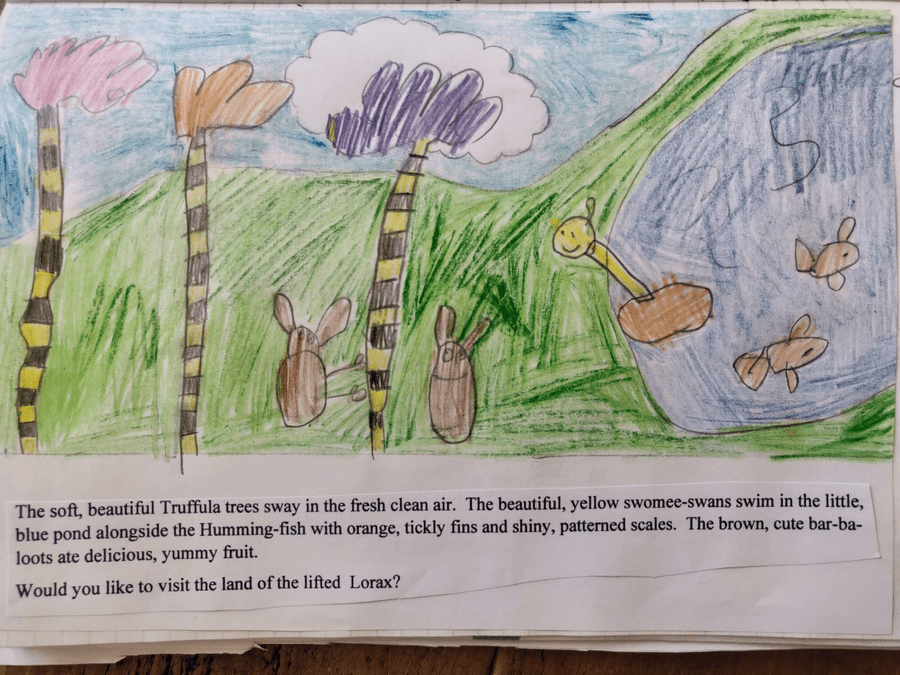 Brannagh has created an excellent piece of artwork using recycled materials. A magnificent ocean habitat!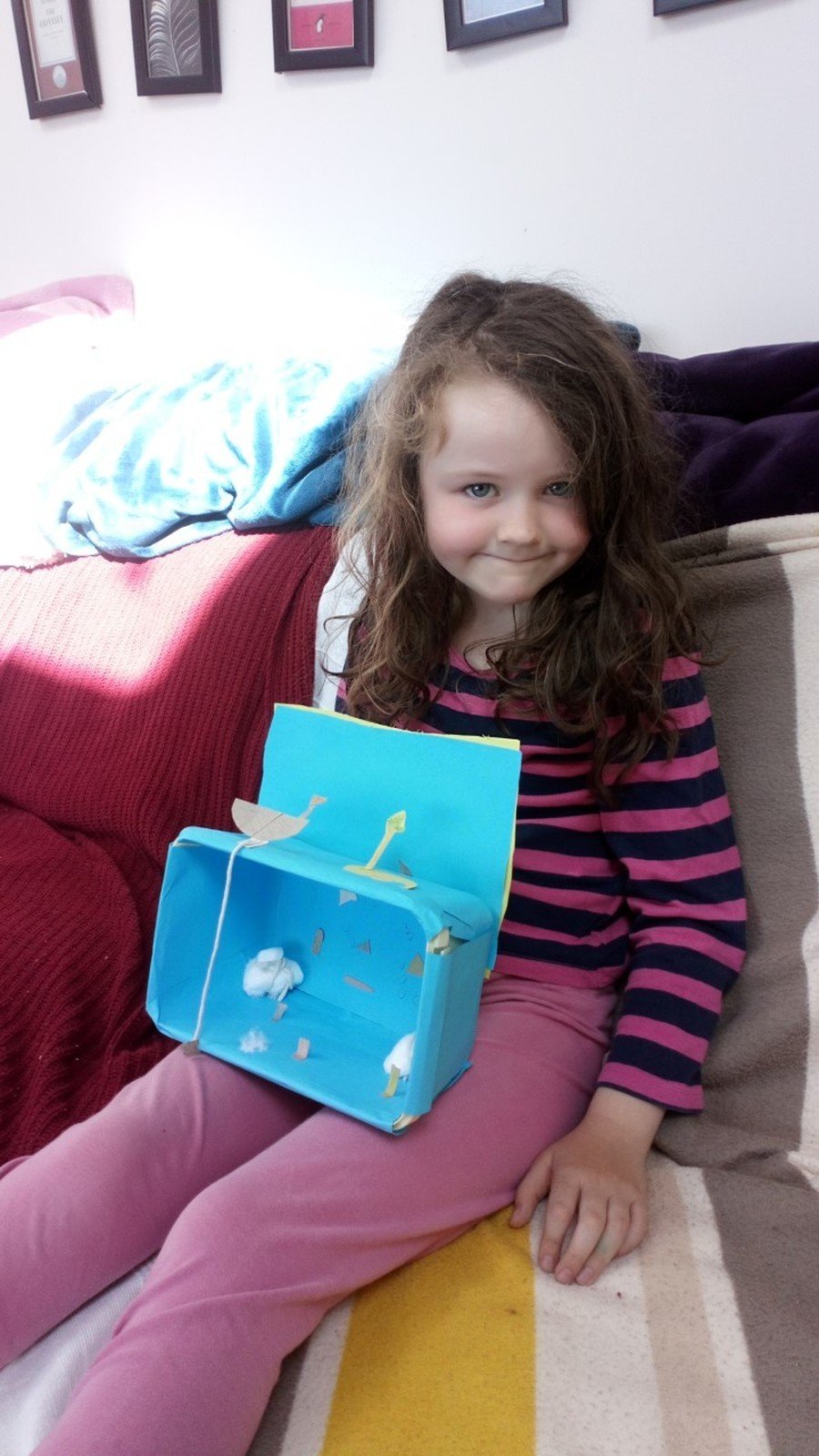 Callum has written a lovely book review about The Tin Forest and has used some fantastic descriptive language.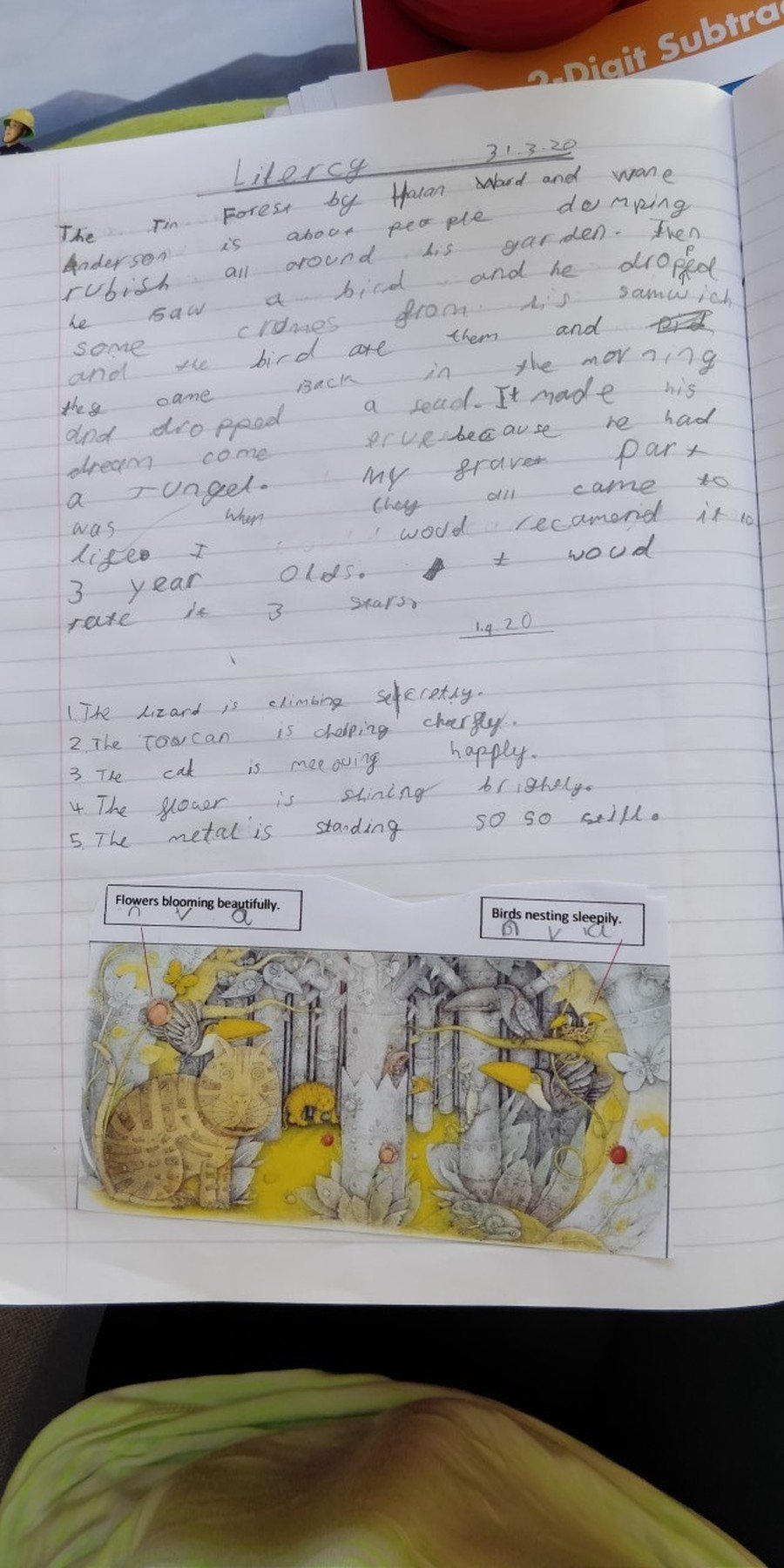 Bella did her own 'grow your own rainbow' experiment and learnt about absorption and saturation. Super science work!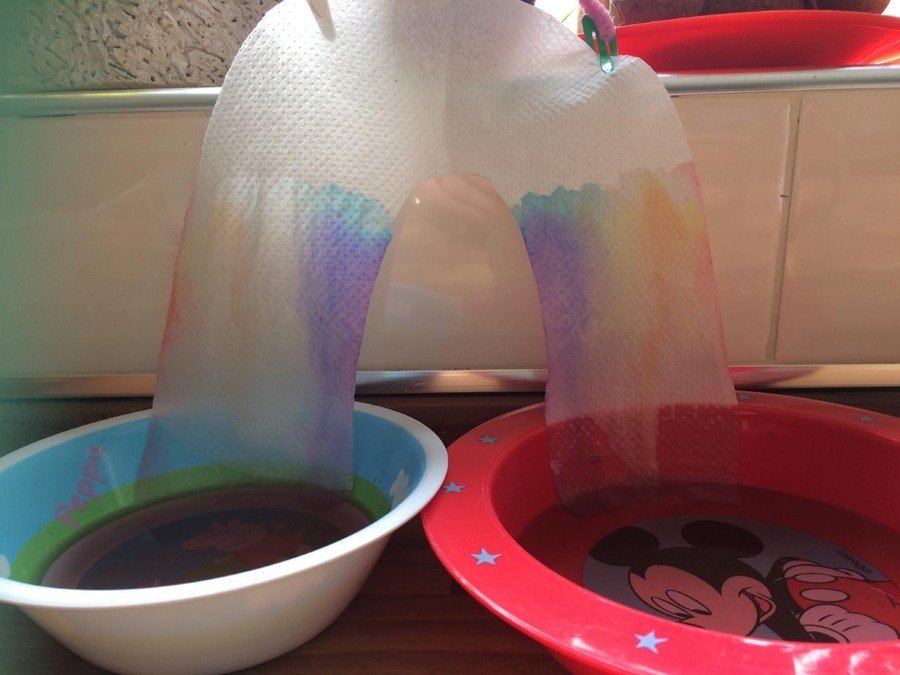 History/ ICT
In History we have been learning all about the history of our wonderful village. On the last week of half term we went for a walk to see all of the places that we have learned about. We used this time to practice our I.C.T. media work by using our photography skills to photograph the key buildings that we have learned about. Check out some of our photos.
D.T
In D.T. we created our very own moving pictures. The children could choose a scene from our Literacy text 'Baba Yaga' and then use either a slider, a wheel or a lever to create a moving picture of the scene.
P.E.
In p.e. we have been exploring the world of gymnastics. We used different methods of travelling to move across a mat and a bench in imaginative ways.
Nativity
The year 2s took centre stage to perform our annual Key Stage 1 nativity. The reviews were excellent and the children are expecting a BAFTA nomination any time now. Take a look at some of the photos taken of our budding thespians.
Church
As part of our Christmas and nativity time we took a trip to our local church (St. Peters) and were treated to a story trail around the church grounds learning about the Christmas Story.
SCIENCE
In Science we have been looking at how animals, including us as humans change as we get older. We have also looked at how we can look after our bodies throughout these changes.
The first thing we looked at was how we can carefully plan our diet to help us keep our bodies healthy. Here is a photo of the foods that we felt like we should 'eat lots of' and 'eat a little bit'.
We then looked at how we can use exercise to keep our bodies both fit, and healthy. Take a look at our daily exercise routines.
We also learned how we can keep our body clean and healthy. We completed an investigation to find out the best method of washing our bodies (hands). We used glitter to pretend to be 'nasty' germs and then used 4 different ways of washing our hands.
1) Rinsing with no scrubbing or soap.
2) Rinsing with soap but no scrubbing.
3) Scrubbing and rinsing with no soap.
4) Scrubbing and rinsing with soap.
We found that scrubbing and rinsing with soap is the best way to keep our bodies clean. Take a look at our hands after washing using our methods.