AAGA Spring Show
132 children from school entered the Addingham Allotments and Gardens Associations Spring Show during the
Easter holidays.
Before the Easter break Reception, Yr1 and Yr2 created spring flower pictures, Yrs 3 and 4 decorated a plant pot and Yrs 5 and 6 designed a bird house.
The show was a lovely morning full of scent from the daffodils, tulips and other plants on show. Addingham Primary School's fabulous entries added even more colour to the show.
Celebrating World Book Day Thursday 3rd March 2016
Friendship Week at School 16-20th November
Non Uniform Day For Peter Pan
Everyone dressed up to raise funds for Great Ormond Street and our school production of Peter Pan later this term.
Gallery
Year 1 Assembly
Our Year 1s performed brilliantly today in their 'animal' assembly doing an absolutely fabulous job of entertaining the whole school whilst sharing their learning with us.
The children sang songs in French, German, Spanish and Greek with the help of Madame Cheater and then wowed us with all of their fascinating facts about living things. I was incredibly proud of them all, they spoke really confidently and I could tell they really enjoyed sharing all of their knowledge with the school. Thank you to Mrs Wade, Miss Sellars, Mrs Thompson and Madame Cheater too!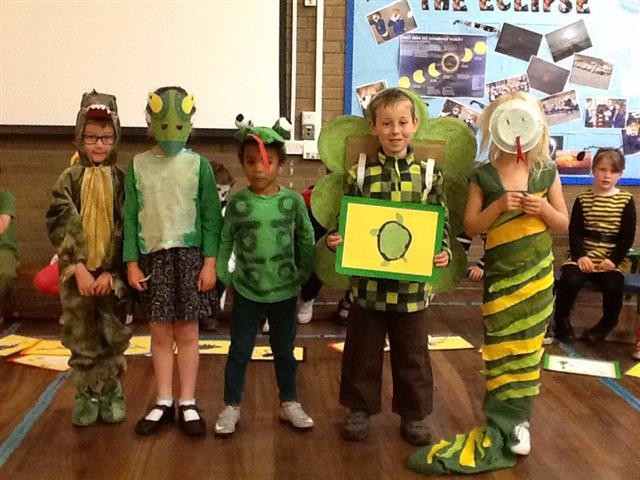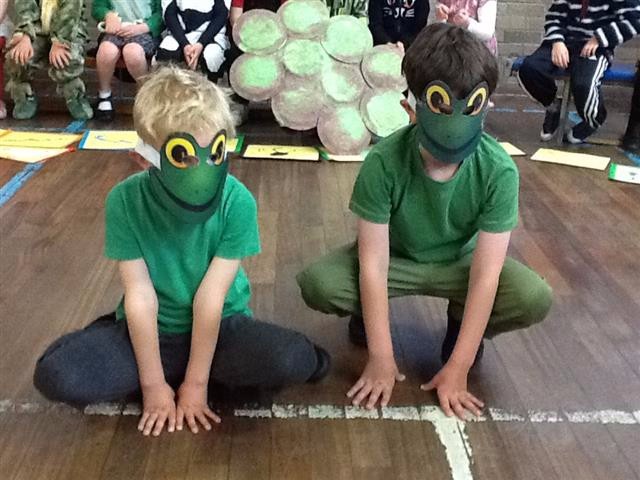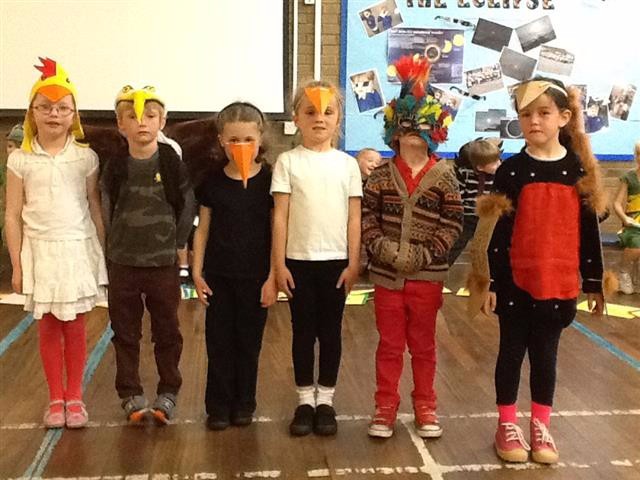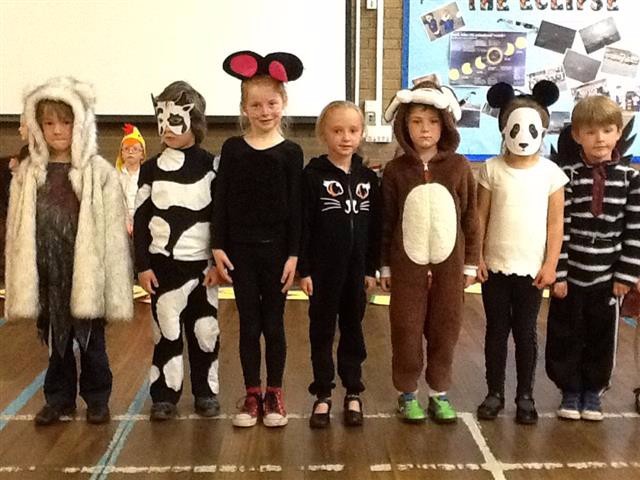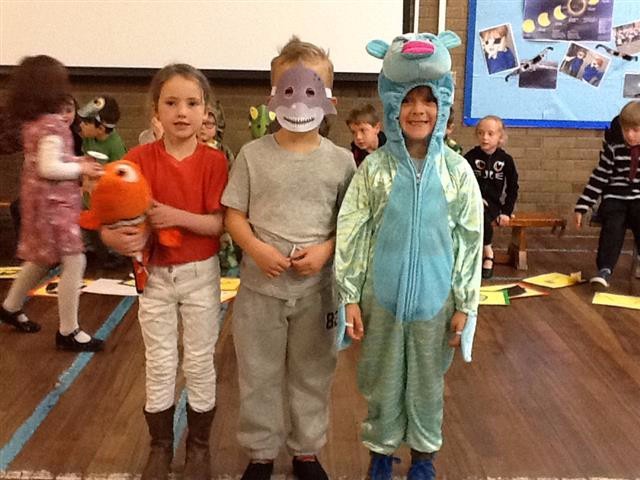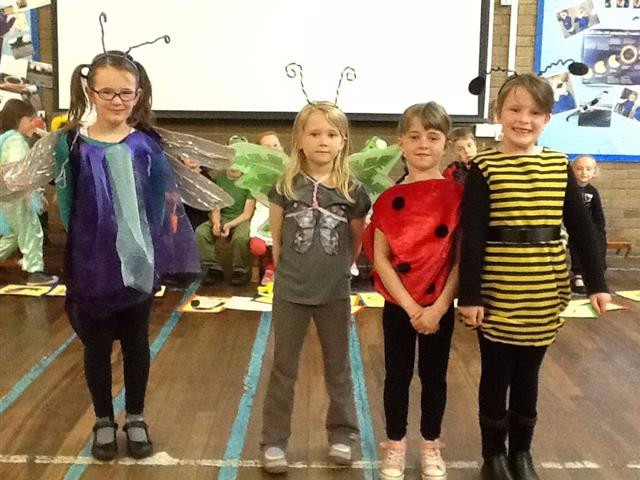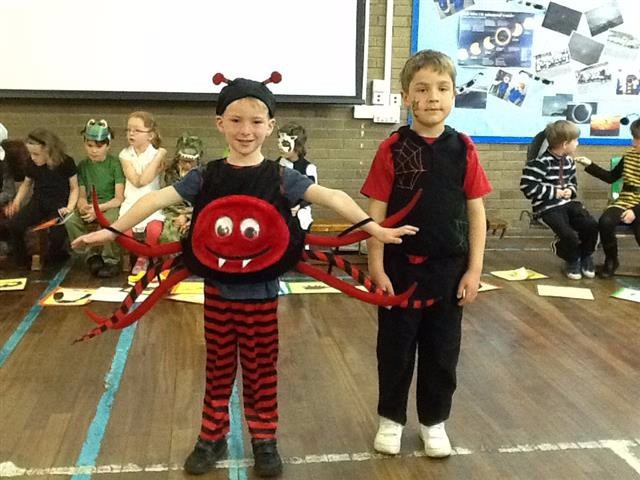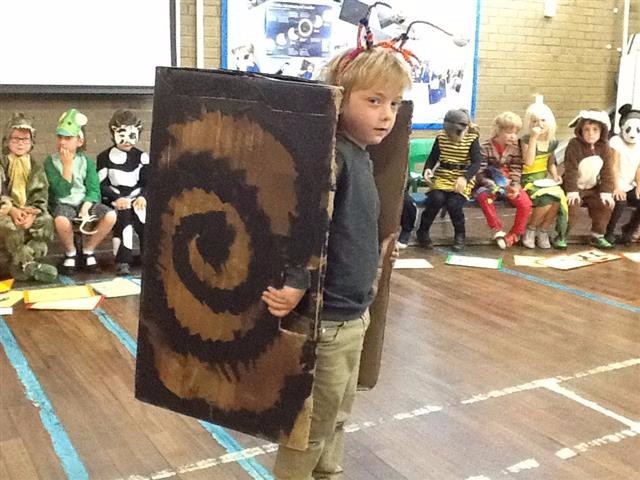 Wharfe Valley Handwriting Winner
Today we welcomed three special visitors from the Rotary Club to school who came to present Esme in Year 4 with a beautiful trophy, certificate and fountain pen for coming first the Wharfe Valley School's Handwriting Competition. A special congratulation goes to Esme for such a wonderful achievement.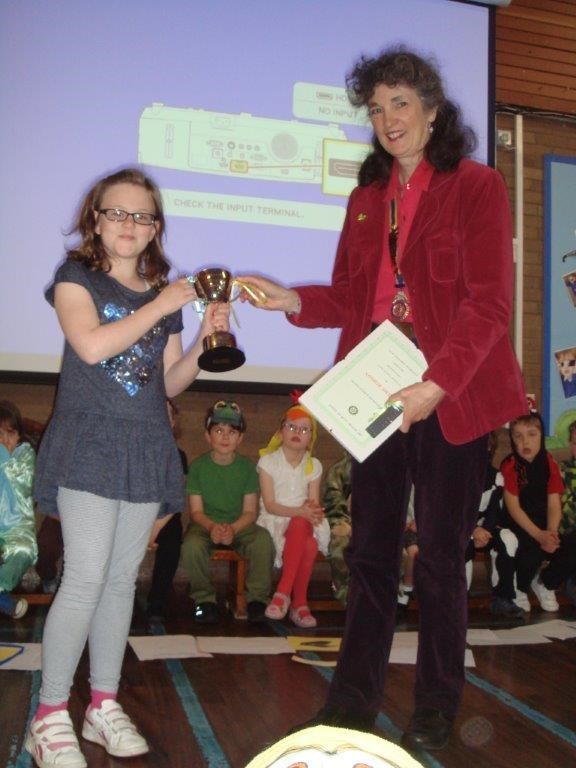 World Book Day 2015
What a magical and exciting day we had in school yesterday celebrating World Book Day. The children and staff looked fantastic and really loved taking part in the enrichment day organised by Mrs Whittingham.
We started the day with a whole school assembly where we had a chance to admire all of the inventive and creative costumes that the children were dressed up in as well as a chance to sing 'The World Book Day' song.
The children in Reception, Year 1 and Year 2 were then mixed together into three groups and left the hall to start their world book day adventure followed shortly after by the children in Years 3,4,5,6 who had also been mixed up into four new groups. Each class teacher led a session with the different groups visiting them throughout the day.
The teacher led enrichment sessions were based upon one of their favourite books.
Bishop Toby's Visit to Addingham
Last Tuesday afternoon, before half term Bishop Toby visited Addingham Primary School as part of his tour of Bradford. Rev Summers and his team lead an 'Open the Book' Assembly that afternoon followed by our Year 6 School Council representatives giving him a guided tour of our school and finally he ended his time with us with a 'Question Time' session in Year 6.
Year 6 Residential at Ingleborough
Everyone woke to snow on the last morning.
A Walk on Ingleborough.
Joshua and the puddle in slow motion!
Caving and Gorge Scrambling
Meal Times- Always an important part of being at Ingleborough!
All arrived safely yesterday and have enjoyed the first day of their residential!
Foreign Languages & Language of the Month
We are very proud that some of our children have the opportunity to speak different languages outside of school. This year we have launched Language of the Month. Each half term we study a particular language with the children learning to answer the register in that language and some of the other key phrases as well as having a discussion around that particular country. During the first half-term German was our language of the month. I know from talking to children in Key Stage 2 that they are very confident with using 'guten morgen' and 'guten tag'. This half-term we have moved on to Portuguese with the children using 'bom dia' and 'boa tarde' to answer the register.
There are many reasons for the children to participate in this, including giving bilingual children the opportunity to demonstrate the language skills they bring to school, to broaden the horizons of monolingual English-speakers and to show respect for other languages and cultures.
This half-term there has been a competition for Year 5 and 6 to design a poster around the theme 'Portugal'. There were many fantastic entries including Josh N's, Will D and Matt's along with Freya and Amelia's; however the winner was Isla and Becky's (see below).
If parents are familiar with a particular language and would like to share their skills please get in touch.
Children in Need and Type 1 Diabetes Day
As you can see from the photographs below the children loved dressing up as their favourite super heroes or in a onesie to help raise money for two really worthwhile charities. Callum in Year 5 (school council treasurer) worked with Mrs Turnbridge to total up the donations raised and the grand total so far is £312.07. Thank you so much to you all, we have such a caring community here at Addingham and I know that both charities will be delighted by your generosity.
Mr Yates, our music teacher, is part of the band of the Yorkshire Regiment of the British Reserve Armed Forces.
He came in today to talk to us in Assembly. On Wednesday of this week he was not in school because he was in Lille, France as part of the band for the fifteen WW1 soldiers from the Yorkshire Regiment who were reintered. He let Robert, Joshua, Sam, Freddie and Dan try on some of his uniforms.
Creating and filming, from a miniature helicopter, our Tour de France piece of art work on the school field.
We have had such an amazing morning completing our artwork project on the field today. Working with Doctor Harrison Moore and Mrs Bayntun the children were able to add the final touches to the design by riding, running and walking their way through and across the spirals whilst scattering wild flower seeds.
The finished result looks amazing and so please look out for images of it over the weekend, in the Yorkshire Post tomorrow and the Ilkley Gazette next week. Miss Greenaway's friend filmed the morning from the air.
Deputy Lord Mayor's Visit to Addingham
Last week, our School Council were invited to have lunch with the Deputy Lord Mayor when she visited Addingham. We had a wonderful time learning about how the council is organised and were privileged to be able to ask the Deputy Lord Mayor some questions.
Addingham Primary School Council
'We have recently read that the Lord Mayor's charity appeal in Bradford is the 'Disability Sport and Pleasure' trust which helps to provide opportunities for a wide range of disabled people. As a school council we wondered what we could do to help support this work?'
'We were interested to find out that you are a Bradford 'Street Angel' volunteer and we would like to ask you what this involves.'
'What has been the hardest decision you have ever made?'
'What is the difference between being a councillor and the Deputy Lord Mayor?'
'What are your aspirations?'
'Would you like to be the Lord Mayor in the future? Why?'
'Can you tell us a little bit about your role as a councillor so we can see the similarities between your role and our school council?'
'Do you have to wear a uniform?'
'What do you do in your free time?'
'Is it an enjoyable job? What is the most rewarding aspect of your work?'
'We would love for you to come and visit our school and attend one of our school council meetings, would this be possible?'
Addingham Civic Society Feedback
'So glad you could make it on Tuesday lunchtime. The children turned out to be quite a highlight! Their questions were brilliant.
Thanks for the effort you and Mrs Ellis put in to arrange it - much enjoyed by all, and the children behaved impeccably, well done them'
These are the prize winners in the Civic Society Poster Competition. The Theme was 'Tour de France through Addingham.'
Celebrating World Book Day
We celebrated World Book Day today with a special assembly. Children from all classes had brought in their favourite books. Some had written poems and journals. There was a theme of cycling in many of them in preparation for the Yorkshire Grand Depart in July which is coming past our school and through the village both days.
Quick Links: